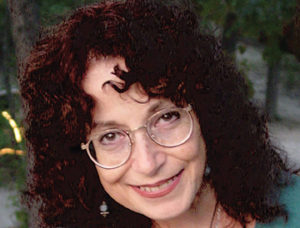 Yael Hana Bethiem Powell was born July 17, 1950 in Haifa, Israel, the daughter of Uryon Sahari and Willa Skipwith (Christoph) Davidsohn. She departed this earth life on Wednesday, Jan. 3, 2018, in Eureka Springs, Ark., at age 67 apparently from a tumor found in her left lung on Jan. 1, 2018.
On July 11, 1987 she was united in marriage to the love of her life, Douglas George Powell, who survives her. She is also survived by her mother, Willa Davidsohn, sister, Rachel Davidsohn, brother, Daniel Davidsohn, Aunt Francis Salerno, cousins Chris Salerno, Lucy Lilien and son Christopher Jose, all of Florida, brother Michael Davidsohn of Louisiana, stepmother Marty Davidsohn, half sister Sharon and husband, Wayne Rogers, of North Dakota and her loving pets, Christos, Lilah, Lovie, Bliss, and Desi; She leaves behind many close friends and thousands of devoted followers of her writing.
Yael is preceded in death by her father, son, (Joshua), and grandparents.
A Celebration of Life service will be on Sunday, Feb. 18 with Blue Star/Deerwomon officiating at the United Methodist Church 195 Huntsville Rd., on 23 South. All are welcome. Please bring a food dish to share.
Memorial donations may be made to the First United Methodist Church 195 Huntsville Rd. Eureka Springs, or the Flint Street Fellowship & Food Bank, 33 N. Main Street, Eureka Springs, AR 72632. Online condolences may be sent to the family at nelsonfuneral.com. © Nelson Funeral Service, Inc. 2017
God blessed us with her presence on earth…
Yael Powell was on earth as a messenger for God. Severely disabled from age 20 onward with a disease of the spine that limited her mobility, Yael engaged in a daily mystical communion with God, finding God's loving voice through her personal experiences of great suffering transformed into Love.
Yael met her husband Doug at a Sufi Camp in October 1986. She had been transported by friends so she could participate in this gathering that honored all religions. Her airbed was positioned on the stage, behind the teacher. Doug noticed her then joined her on stage, and while they could not speak, they gazed into each other's eyes for three hours, while the teaching proceeded. Their spirits were joined immediately. Yael had given Doug her phone number, the next day he called her. She invited him over to her living quarters in Fayetteville and he never left.
In December, during the middle of the night, they said vows to each other, marrying in their own ceremony. In July 1987, a second wedding took place at Lake Leatherwood Park in Eureka Springs, Doug's hometown, to which he brought Yael from Fayetteville. Yael and Doug sang to each other and were joined in a ceremony Yael wrote and blessed by a Sufi, a Native American shaman, and a Franciscan monk.
At this time, she was forced to spend about 20 hours a day in bed. She would get up to eat and go to the bathroom, and each day she drove the car once around the block, before going back to bed. Yael and Doug were unable to marry legally because Yael lived on medical disability. The home Doug built had burned down, and he was, as yet, unable to support her. Within a few years, they purchased a home with a side cabin. Doug completely renovated the property and they began doing weddings at their chapel and bed and breakfast called Garden of Dreams. July 11, 1993, they finally legally married in a ceremony there, with a small group of family and good friends in attendance.
During this time, although Yael's health continued to be unpredictable, she filled more than 80 notebooks with communions from God, writing by hand every single day. Both Yael and Doug, an avid sailor, yearned to live on beautiful Beaver Lake where they had camped for many years. One day, after a stay in the hospital for Yael, Doug took some respite and went sailing. From the boat, he noticed a large, seemingly deserted home on the edge of the lake adjoining Starkey Park. On his way home, he found the place. He located the owner and after some negotiation and family help, they found themselves living in a beautiful home overlooking Beaver Lake. They immediately started doing weddings, even while Doug and a crew undertook the large remodeling task. Circle of Light Wedding Chapel with its beautiful outdoor deck was born.
In 2001, a mailing list had been started to send the Messages out. A soul sister, Shanna MacLean, arrived, guided by Spirit, and joined Yael and Doug to undertake the administrative tasks of weddings and management of the Messages. Circle of Light Spiritual Center became a reality. Over the years, the mailing list grew to 3500 people, with the "Messages from God" being sent out regularly and compiled into a large collection of books. The Center offered 18 workshops, and people came from all over the world. (See www.circleoflight.net)
There are many stories about Yael, her communion with God and her angelic nature. Despite her disability, her heart was always open to everyone around her, be it the plumber or someone visiting for a wedding. She seldom left the house unless she had a doctor's appointment. The seat of the car was adjusted so that she could ride for a short distance, but every position caused her pain. Once on a doctor's appointment trip to Fayetteville, Yael said to Doug, "You know, I've never seen a Walmart. I would like to go." Doug took her to the Supercenter. Inside, her gaze panned around, looking at the immensity of the store. She had not been in a store like this for years and years – a mercantile with a panorama so big, one almost needs binoculars to see the opposite wall. As she stood looking, Doug expected her to make a comment on the merchandise and the enormity of it. Instead, she said: "Oh, my God, look at all these people to love!" That was Yael! Always serving love in spite of her physical pain.
After the announcement of Yael's transition, hundreds of emails arrived from all over the world from people who have followed the Messages from God, people who came to workshops at Circle of Light, and the more than 2,000 couples Yael had married over the years.