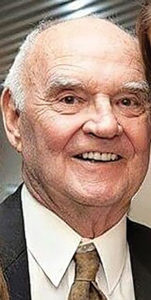 William (Bill) Ray Coughenour of Holiday Island, Ark., was born Dec. 7, 1934 in Pittsburgh, Kansas, son of Oren and Margaret (Widner) Coughenour. He departed this life Saturday, Sept. 9, 2017 in Eureka Springs, Ark., at age 82.
Bill played college football at Wichita State University and was a member of the winningest team in school history with a 9-1 record. Upon graduation, he began working at Beech Aircraft where he remained for the next 37 years. Bill retired as vice-president of Aerospace for Beech Raytheon.
He was an avid outdoorsman and enjoyed hunting, fishing, golf and attending college football and March Madness with his family and friends. In addition, he loved traveling which included several Final Fours, The Masters, and numerous bowl games.
He is survived by his daughter, Lauri Cox of Wichita, Kan.; son, Kurt Coughenour and wife, Debbie of Tulsa, Okla.; brother, John C. Coughenour and wife, Gwen, of Seattle, Wash.; sister-in-law, Gloria Coughenour of Tyler, Texas; two step-daughters, Stephanie Schwartz and husband, Michael, of Los Angeles, Calif., and Kristi Wickes and husband, Jim, of Chester, N.Y.; grandchildren, Cory Cox and fiancé, Milisa Chilcote, and Casey Petty and husband, Steve, all of Wichita; Kelli Coughenour of Tulsa, Okla., Molli Woodham and husband, Andrew, and Alex Coughenour and wife, Brittanie, all of Broken Arrow, Okla.; great-grandchildren, Kaiydence Woodham and McKenna Coughenour both of Broken Arrow; loving caregivers, Reba Richardson and Max; several nieces, nephews, and a host of friends and loved ones.
On Dec.16, 1955, he was united in marriage to Patricia (Eakin) Coughenour, who after 34 years preceded him in death. After the death of Patricia, he married Marlene (Kerley) Coughenour on May 4, 1992, who also preceded him in death, along with his parents and his older brother, Robert Dean Coughenour.
A Celebration of Life service will be held on Thursday, Sept. 14, 2017 at 10 a.m. at the Charles M. Nelson Memorial Chapel, Berryville, Ark., with Reverend Mark Pepple officiating. Arrangements are under the direction of Nelson Funeral Service.
Memorial donations may be made to the American Cancer Society, C/O Anstaff Bank, attention Tiffany Ball, P.O. Box 272, Berryville, AR 72616. Online condolences may be sent to the family at nelsonfuneral.com. © Nelson Funeral Service, Inc. 2017