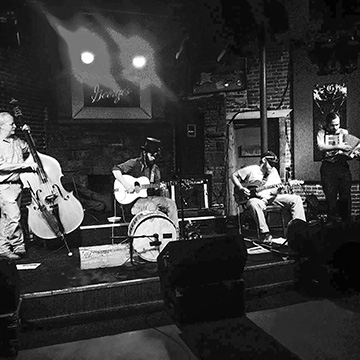 Do you love gypsy-jazz? You know, the music played by Johnny Depp in the 2000 romance/drama film Chocolat? Gypsy-jazz is deeply rooted to legendary Romani guitarist Django Reinhardt who wrote the Minor Swing/Caravan song also featured in that film. 
Well, right here in Eureka Springs is an amazing gypsy-jazz band known as "Johai Kafa." The acoustic guitar is energetically played by bandleader Sage Ahava coupled with the ever-so-talented accordion player, Nari McLaurin.  Ahava and McLaurin communicate with one another through rhythm to make you wonder how they are so in tune with one another. 
The tempo changes at a drop of a hat and they don't miss a beat. They have a Romani-Ozarkian stage presence that is usually backed up by a variety of other classic acoustic instruments also played by local musicians. You may know Nari from her Parisian-style accordion busking on the weekends in random locations of downtown historic Eureka Springs. 
Shopowners and tourists have enjoyed having their ears tickled with what might be described as gypsy romance.  Hearing her music takes you to a place not unlike Paris in the 1930s – it is pure magic full of motion and minor-jazzy panache. 
You can hear them play live at Brews on Monday nights at 7, or at the Basin Park on Diversity Weekend, August 3 from 12:30 – 1:30. You may just want to book them for your own event by emailing them at Johaikafabooking@gmail.com.  To listen to their music you can find samplings on Facebook at Johai Kafa.  Do it for your betterment.