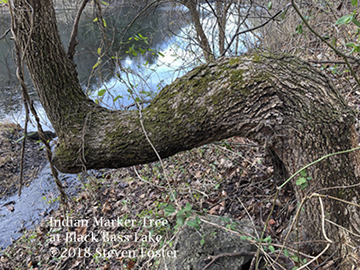 Indian Marker Trees
I love this time of year with the cool weather, free from vision-obliterating vegetation, where one can see the Ozarks for the geological wonder that lies beneath our feet. It is also a great time for learning to differentiate tree barks and observe skeletal winter forms of tree crowns, and silhouettes. It is also an excellent time to discover trees which native American altered in form and structure to point the way to a spring, shelter, cave, or to guide one along a trail. These have become known as "Indian trail trees," "marker trees," or "thong trees."
Today many of these trees are aging, decaying, and are believed to be in need of protection. Dismissed simply as "bent trees" or trees of little archeological or historical importance, various woman began to bring attention to the significance and importance of these trees in the last half century. Native Americans had a vast network of trails throughout North America, some of which were important trade routes, others were hunting trails or led to fresh water.
A 1939 USDA publication on Famous Trees pictured an Indian trail tree, where in 1929 the Daughters of the American Revolution had put a monument and bronze plaque honoring a red oak marker tree that grew along the Green Bay Trail. In 1997, Elaine Jordan of Ellijay, Georgia, self-published a book Indian Trail Trees, which brought the subject to the attention of a broader audience. Earlier in the in 1960s and '70s, Laura Huber of the Federated Garden Clubs of Missouri began her own campaign to document Indian trail trees in Missouri.
Early in 2007, Hobbs State Park hosted a group of trail tree enthusiasts from four states to share information on their observations of marker trees. Out of that meeting a collaborative effort was developed to form a nationwide Trail Tree Project.
Their crowd-sourced on-line database now contains more than 2,300 records, many concentrated in northern Arkansas, and northern Georgia and the adjacent western Carolinas. For more information (which also includes books and videos) see http://www.mountainstewards.org/project/internal_index.html.
While out this winter, if you see a trail tree, add it to the database. The photo is of a trail marker tree at the south end of Black Bass Lake.