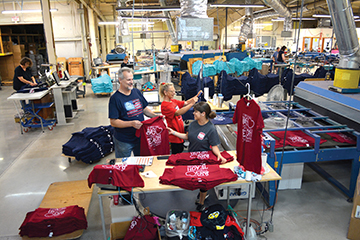 Vic Kennett, founder and CEO of Kerusso, is quite likely the person who invented the term "t-shirt evangelism." Quite certainly he has perfected the business of selling t-shirts that contain Christian evangelistic messages, as Kerusso is the largest business of its type in the U.S., with sales in more than 50 foreign countries, as well.
Kerusso is the business-started-in-a-garage success story. Kennett started Kerusso 30 years ago in his Eureka Springs home with a $1,000 family loan. He took out an ad in Campus Life magazine and filled orders on the side while still working as a full-time carpenter. Today Kerusso is the largest Christian apparel company in the nation, employing 135 people at a 100,000-sq.-ft. facility in Berryville. Kerusso has sold more than 25 million t-shirts.
Kennett said the mission of Kerusso, a Greek word meaning "to herald divine truth," is to proclaim the good news to the world through products about Jesus.
According to Impressions magazine, a t-shirt message might be read as many as 3,000 times during its lifetime. Kennett said t-shirt evangelism has the potential to preach the gospel to millions of people who need to hear the message of salvation.
"Even if each shirt is seen just 100 times, that means we have preached the gospel 2.5 billion times around the world," Kennett said. "We genuinely believe what we are saying and want to make a difference in the world. We believe a t-shirt can impart a thought or message without so much as a conversation. But then t-shirts of all kinds, whether they are from Kerusso or Nike, can also start conversations."
The t-shirts are often lighthearted, such as a children's t-shirt with a bear on it that says, Jesus Loves Me "Beary" Much. Usually the t-shirts contain a pun or a clever turn of phrase. The idea is to bring a smile to the face of the person who sees it. And as Kennett said, "You catch more flies with honey than vinegar."
Kerusso has grown and thrived at a time when many apparel manufactures have been forced by market factors to leave the U.S. for cheaper labor overseas. But most Kerusso shirts are still screen printed at the factory's ten-acre campus in Berryville. In addition to those jobs of the actual printing the shirts, they also have employees for warehousing, distribution, shipping, sales, customer service and accounting. There are also artists on staff.
"So, it is a whole host of great people who all work together to get the job done," Kennett said.
One important element of success is catering to different tastes. There are shirts that might appeal to a man who rides a Harley Davidson, or someone with a military background, while other designs may be feminine. They recently launched a new line of women's fashion boutique t-shirts. And their active apparel, moisture wicking polyester t-shirts, is also gaining in popularity.
Rick Tocquigny, CEO of Colorado-based Artbeat Media, www.gracefully-yours.com, has done business with Kerusso for 20 years. He said the success of Kerusso starts and ends with their being centered on the right core values.
"Vic Kennett's core values are God first, family, creativity, integrity and hiring the people who walk the talk of core values every day," Tocquigny said. "If you hire people with deep faith who also have a belief in creative ideas and always doing something different, it comes through in the thirty year success of the company."
He said the company consistently thinks outside of the box.
"There is a believer's market and a seeker's market," Tocquigny said. "Instead of only going after the people who sit in the pews every Sunday, they are also going after the people who are out there on the fringe, the seekers. Kerusso is chasing down the consumer. In that sense, I would describe Kerusso as a disruptive company."
There is a Kerusso outlet store on Passion Play Road and US 62, and some locals might think that's all there is to Kerusso, but that's just one retail outlet. By far most of their sales are wholesale. And the company continues to grow its online retail sales.
"The retail industry is changing," Kennett said. "Serving brick-and-mortar retailers is still the bread and butter of our business, but we're committed to innovation and meeting customers' needs regardless of where they are."
Kennett is proud of being one of the larger private employers in Berryville.
"We are doing our part to keep small town America alive," he said. "We are thankful for our team, for the community of Berryville and Carroll County, for the cities and the county have supported us over the years. It is a great place to have a business."
The motto at Kerusso is: One Team, One Mission.
"It is our keystone principle of how we work together as a team," Kennett said. "We are one team and it doesn't matter if you are in shipping or accounting, you do your job to fulfill that mission statement. We have been very pleased with how our team has grabbed hold of that. Sometimes the larger a company gets, more siloed a department becomes. One team, one mission has really gotten everyone in the company thinking along the same lines."
In addition to t-shirts, Kerusso sells Christian themed hats, hoodies, jewelry and gifts. For more information, see www.kerusso.com.