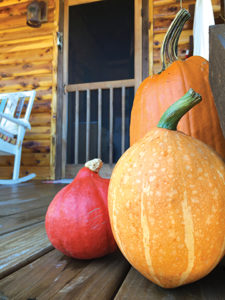 Sassafras and sumac leaves are turning orange and red. Tanagers and indigo buntings left at least three weeks ago, and summer garden crops are slowing down because the seasons are a-changing. Summer fades and autumn looms.
Traditional Chinese Medicine holds that our bodies instinctively adapt as the environment changes in our attempt to maintain harmony with our surroundings. The air is different in mid to late September than six weeks earlier, and we can sense the change. For one thing it's drier. Leaves react to the change as well.
Tradition in the East maintains that autumn is the time to release stored emotions because we are moving from the external, sunshiny, watermelon experience toward a quieter, darker season featuring heavier clothes and root vegetables. Autumn weather signals the transition, so folks around the world see the change as a reason to celebrate.
In the Hindu tradition in India, families prepare for winter by celebrating the Festival of Lights, which symbolizes the victory of light over dark. There are candles everywhere, sparkling fireworks, and plenty of good food. Yi Peng is celebrated in northern Thailand by releasing thousands of lit lanterns into the sky and wishing for dreams to come true.
Japanese customs call for reconnecting with one's ancestors on the autumnal equinox. Ecuadoreans also set aside El Dia de los Difuntos as a pensive time to remember their forbears. And every October, Germany holds the world's largest beer festival.
In North America, natives resume the tradition of watching athletic people cocooned in padding and wearing hard plastic headgear run around in a field and bash into each other in pursuit of a leather-wrapped ovoid bladder, and glory. Thousands assemble to watch it firsthand, and millions more sit at home and watch on television instead of participating in the activities mentioned below.
Around the home
The transition from summer into autumn brings home practical demands. At some point, there will be no more picnics, campouts or swimming trips, so all the related gear should be cleaned and stored away. If you have a shed or garage, better clear out the unfinished summer projects so there will be room to store the summer gear.
If you are one of the many who own well-traveled vehicles, now is a good time to paint over the rust spots before yet another winter.
Autumn is caulking and weather-stripping season. Sealing the gaps around windows and doors prevents loss of heat during the winter and helps keep spiders out.
If you have a wood stove or fireplace, get it ready. Stovepipes and chimneys need to be cleaned regularly, so maybe this is the year.
Change filters on the heat return, change batteries on smoke alarms, flip your mattress, clean behind the refrigerator and check your spider traps. Is your backup generator ready for action? Do you need to get a generator?
Around the yard
Those who are inclined to fertilize and aerate their lawns should do so soon, and before the first frost, make sure the sprinkler or water delivery systems are ready for winter. Garden hoses should be drained and stored before the first freeze.
Get the firewood ready. Wood stacking connects us with our wood-stacking ancestors, so make firewood stacks which demonstrate your architectural genius and historical perspective. Start collecting kindling and nexters, pieces bigger than kindling that get the big chunks burning. Cutting, splitting and stacking firewood can be an arduous yet mindful task, and none of that matters anymore when a fire in the woodstove warms your winter evenings.
Make sure your heating system is in working order.
Moderate tree trimming will improve the health and appearance of the trees and your attitude, and soon enough there will be heaps of leaves for your mulching needs.
Make sure gutters and downspouts are ready for the deluge of leaves coming soon.
Gardens
The end of summer means clearing out spent plants in flowerbeds and gardens and collecting seeds for next year. Annuals, like zinnias, cosmos and marigolds, are already dropping seeds, as are cilantro, lettuce and arugula plants. Most seeds are easy to collect, and left on the mature plant will spread themselves around producing happy surprises next year.
Folks with an instinct for floristry will find seedpods and ornamental dried branches to use in arrangements.
This is the time to dig up and properly store tubers, corms and your favorite rhizomes.
A gardener can plant a few of the garlic cloves saved from this year's harvest for more fresh garlic next spring. Provide plenty of mulch to help protect them during the winter. In fact, a healthy layer of mulch will benefit all garden beds. Autumn is the time for the big garden cleanup, so as the late summer weeds, bean vines and old tomato plants get pulled out, and mulch, compost and manure are piled on. Pathways are cleared, stakes gathered and stored, perennials like oregano and thyme trimmed back, and dreaming about next year's garden begins.
Health and well being
Easing into autumn means a transition for our bodies as well. Traditional Chinese herbalists encourage folks to move from summer fruits and salads toward root vegetables, winter squashes and pumpkins, and soups and stews which naturally warm the body. Warming herbs like cinnamon, cloves, nutmeg and ginger are appropriate for the season.
Instead of cold beverages like iced tea and lemonade, drink winter teas. Use all the mint, sage and goldenrod you gathered during the summer for healing teas. Fenugreek tea not only warms the body, it helps clear mucus from your lungs. Anise is useful in this way, as well.
Outside activities might abate somewhat, although the colder weather mitigates the tick and chigger element from walks in the woods, and, after a point, snakes hide away for a while. Colder weather seems to make outside activities more introspective, like Robert Frost poems. We can see deeper into the woods, and the pines and cedars are more prominent. Juncos replace chipping sparrows, raking replaces mowing, boots replace sandals, and we sit near the woodstove instead of on the deck. It's the circle of the seasons.
There are two things, however, we can count on that are constant and never-changing: Alex Trebek on Jeopardy and televised performances by padded athletic individuals wearing helmets chasing each other and the leather ovoid prize.