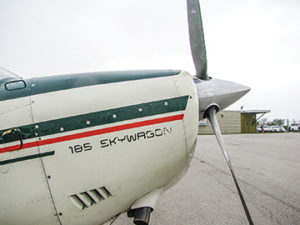 Fifteen Cessna Skywagons from seven states flew in to Carroll County Airport Friday during the fly-in by the South Central Region of the International Cessna 180/185 Club. Pilots and passengers arrived Friday, spent the evening in Eureka Springs, shuttled back to CCA for breakfast before taking off toward the Thunder Ridge grass strip near Flippin, and then onward for a ride over partly cloudy north Arkansas. They also flew to Gaston's White River Resort and the Trigger Gap grass strip before returning to CCA by late afternoon.
According to CCA Manager Michael Pfeifer, the Skywagon Club booked 15 rooms for three nights in Eureka Springs and had ample time for shopping. Fifteen pairs of shoes were reportedly purchased in Eureka Springs.
Upcoming Skywagon fly-ins are scheduled for Bannon, Kan., and Washoe County, Nev. Regional President Rusty Knox said the group chose an Illinois location for a spring fly-in to support a member who flew down for this one.
A pilot from Del Rio, Texas, said he got re-acquainted with the color green because of his visit to Carroll County. He flew four hours to get here.
Pilot Harper Goodwin, influential in bringing the group to Carroll County, commented Skywagons are considered the station wagon of the small aircraft world because they can haul more people and a bit more cargo than two-seaters. He said Cessna produced 10,000 Skywagons from 1953 until 1981, "so the newest one is 37 years old." One pilot commented his plane was 63 years old, and another said he has had his for more than 50 years.
Knox said Skywagons are typically the planes equipped with pontoons for water landings, so they are popular in Alaska and Canada. Goodwin commented because the planes at this fly-in are not equipped with pontoons they are referred to as "city girls."
Pfeifer reported the pilots bought 850 gallons of fuel at CCA totaling $3389, and he expects many of the pilots and families will be returning to Carroll County.