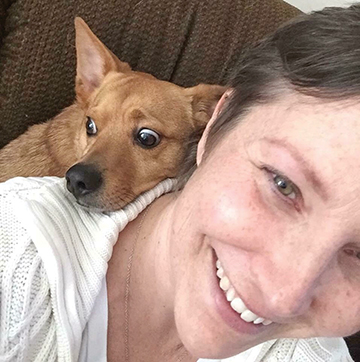 Sarah Larson McGettrick was born March 11, 1975, in Eureka Springs, Ark., to Albert and Lynn Packham Larson. As a small child, Sarah had three imaginary brothers, Tonto, Poldark, and Jeffrey Charles. When she was four years old, her real live beloved brother, Jeffrey Charles, was born. 
Sarah attended Eureka Springs public schools from kindergarten through high school graduation. She was a graduate of Cottey College and the University of Arkansas. 
On Dec. 21, 1996, Sarah married Bobby McGettrick and they shared a love of fun and laughter together for 21 years. She was the rock of stability for the family during Bobby's difficult deployments to war zones.
Sarah and Bobby lived at five different bases during his career in the U.S. Air Force. While assigned to Altus Air Force Base, Altus, Okla., Sarah and Bobby added the other love of their lives, ginger-haired daughter Sydney Ryan McGettrick. Sydney brought even more fun into the mix.  
Sarah grew up in Girl Scouts and loved scouting, camping and organizing activities, which led naturally to her careers as a Recreation Therapist and Personal Fitness Trainer. She completed her credentials as a Fitness Trainer after her diagnosis, amazing us all. She specialized in working with people with physical challenges, helping them to become stronger and reduce discomfort. Her motto was "Keep moving."
Sarah was raised in the Eureka Unitarian Universalist Fellowship and always sought out UU congregations to establish relationships with like-minded people as her family moved to various Air Force assignments. She was a member of UU congregations in Eureka Springs, Ark.; Lawton, Okla.; Oklahoma City, Okla.; Davis, Calif., and Brunswick, Ga. Joining and volunteering at UU congregations was something she loved and an instant way to form enduring friendships.
The McGettricks were devoted pet lovers even fostering "problem pets" until they were adoptable. At their peak, they boasted two rats, three cats and two dogs. During one hurricane they sheltered a foster mama cat and her litter of kittens.
Sarah was diagnosed with ovarian cancer Oct. 14, 2014, and it took her life Oct. 27, 2017. We beg all women to "protect your girlparts" by learning the symptoms of a silent killer that for Sarah had advanced to stage IV before being detected. (www.cancer.org)
Sarah brought joy everywhere she went. From her time in high school and throughout her life she was always known as a person who was kind and respectful to everyone she met. She practiced the highest value we can achieve –kindness and service to others. Her captivating spark of life lives on in the hearts of all who knew and loved her.
A memorial service was held Monday, Oct. 30, at First Presbyterian Church in downtown Brunswick with a reception at Unitarian Universalists of Coastal Georgia.
An additional memorial service will be held at the Eureka Unitarian Universalist Fellowship in Eureka Springs at a later date.
Memorial donations can be made to a project at the Unitarian Universalists of Coastal Georgia named in Sarah's honor. Please make checks payable to UUCG, with "Sarah's Playground" in the memo line. Mailing address:  UUCG PO Box 1056, Brunswick, GA 31521