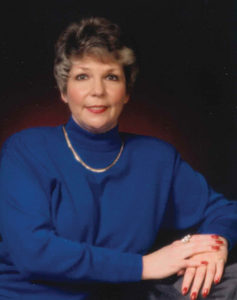 Roberta Sue Huibregtse of Holiday Island, Ark., was born October 8, 1941 in Harrah, Okla., daughter of Robert and Cleta Inez (Maxey) Burke. She departed this life Saturday, January 27, 2018 in Springfield, Mo., at age 76.
On March 20, 1993, she was united in marriage to Ron Huibregtse, who survives her. She is also survived by her children, daughter, Shannon Barrows of Holiday Island; daughter, Kimberly Wright of Grand Rapids, Mich.; son, Kelly McEwen of Oklahoma City, Okla.; son, Kevin Huibregtse of Carpentersville, Ill.; sister, Pamela Burton of Oklahoma City; nine grandchildren; two dogs, Bud and Gizmo; several other relatives and friends.
She is preceded in death by her parents, Robert and Cleta Burke and brother, Maxey.
Sue attended the Presbyterian Church in Holiday Island. She was a property manager in the real estate industry, former manager of a jazz club in Dallas, Texas, and former director at Peachtree Village in Holiday Island.
A memorial service will be held on Saturday, Feb. 10, 2018 at 11 a.m. at the Holiday Island Presbyterian Church in Holiday Island, Arkansas. Online condolences may be sent to the family at nelsonfuneral.com. © Nelson Funeral Service, Inc. 2018