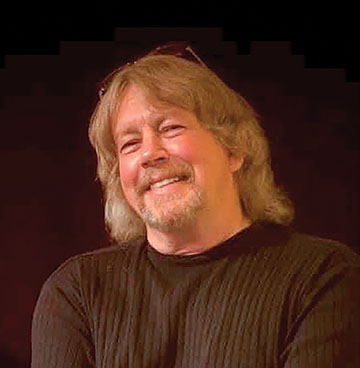 Randal William Rust of Berryville, Ark., was born March 13, 1947 to Kenneth and Marilyn (Engel) Rust in Adrian, Minn. Randy passed away peacefully at home on Nov. 28, 2020 at age 73.
Randy grew up on the family farm where he drove the tractor in the fields at a very young age. When he reached the end of a row, he would stop so his father could turn it around for him. 
He actively participated in all high school sports and still holds the pole-vaulting record there circa 1965, before they had fiberglass poles.
Randy attended Mankato State College for two years and graduated with an Associate degree in commercial art from Minneapolis Area Vocational Technical School, where he could take more art classes rather than academics.
His love of art was inspired by his mother and grandfather, and he showed great promise at a very young age when drawing risqué pictures for his elementary school friends. Paintings were his passion and when he showed his junior high teacher one of his early paintings she replied, "You didn't paint that, your mother did!" 
Always following his heart and never discouraged, he persisted in his life-long calling of art and music.
In 1975 Randy, wife Barbara, son Brook and baby Melody moved to Palmer, Alaska. There Randal was able to paint Alaska scenery and wildlife while also joining the local Artists' Co-op. 
He painted an 8 ft.x12 ft. masterpiece which he traded for a log cabin and barn. After disassembling these structures, he moved them to their land in the foothills of the Talkeetna Mountains on Buffalo Mine Rd., where he constructed their new home and lived for 12 years without running water or electricity. 
In 1987 the family, now including Crystal and Jeremy who were born at home in Alaska, moved to Berryville, Ark., to be close to the Rust family. 
Randy loved painting the beautiful Arkansas trees, forests, rivers and sunsets. He led a restoration of the Eureka Springs historical mural, and along with James Abbott produced the murals that grace Berryville.
On May 16, 1970 he was united in marriage at Gol Lutheran Church in Kenyon, Minn., to Barbara (Overby) Rust, who survives him of the home. Randy is also survived by son Brook and Charlotte Rust of Berryville, daughter Crystal and John Chapman of Fayetteville, Ark.; son Jeremy Rust and daughter-in-law Stephanie Millard of Pea Ridge, Ark.; granddaughters Autumn Rust of Fayetteville, Callista Audet of Portland, Ore.; Vivian Rust and Tanner McGlynn along with their daughter, Kinley, of Berryville, step-grandson Patrick & Kayla Austin of Seminole, Okla.; step-granddaughters Courtney Myddelton of Aurora, Mo.; and Grace Chapman of Fayetteville. 
Survivors also include brothers Steve and Suzanne Rust of Farmington, Ark.; Alan & Karla Krogman Rust of Minneapolis, sister Christine and Randy Morrison of Fayetteville; sister-in-law Tina Rust of Rogers, Ark.; as well as nieces, nephews, great grandchildren, and Minnesota cousins.
Randy was preceded in death by his parents, daughter Melody Rust of Eureka Springs, Ark., and brother Doug Rust of Rogers, Ark. 
Randy was a loving, fun, friendly spirit. He was kind, welcoming, spiritual, and amazingly talented. He was always smiling and laughing. His love of art, music, and nature he shared with family and friends. The footsteps he trod on the land left only grace and beauty. He peacefully passed to Glory in his sleep and is now helping God paint beautiful sunsets. 
No services are scheduled at this time due to Covid-19. Cremation arrangements are under the direction of Nelson Funeral Service. Online condolences may be sent to the family at nelsonfuneral.com. © Nelson Funeral Service, Inc. 2020.