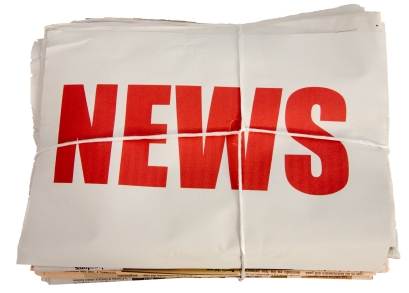 One point of pride Eurekans can claim is that we like to celebrate. It doesn't take much to inspire a gathering for a cause. We dress en masse like Santas or zombies and invade downtown just for fun. We have banjo rallies and we spit watermelon seeds together. We have parades for Corvettes, Volkswagens, Mardi Gras, St. Patrick, Jesus, the First Amendment, and once there were out-of-towners parading downtown sidewalks for the Second Amendment. Several times a year we celebrate our diversity, and once a year a crowd gathers on White Street to honor art.
However, there are plenty other occasions worthy of a parade or at least a party or celebration. For instance:
January
4 – National Spaghetti Day – There is evidence pasta noodles were being cooked in China 7000 years ago. Historians claim Thomas Jefferson brought noodle knowledge to our country after a trip to Italy in 1789. There might be as many as 350 kinds of pasta, and as many sauce recipes as there are pasta cooks. So, culinary artists in town could put Eureka Springs on the noodle map with an annual sauce-off on a cold winter night.
16 – National Nothing Day – This is a day set aside to celebrate nothing. However, if we celebrate it, then we are celebrating something, even if it is nothing, so nothing is something. Therefore, if you have nothing, it's a reason to celebrate. You have nothing to lose.
28 – National Kazoo Day – An opportunity for single-file kazoo players wearing party hats and silly glasses to parade down sidewalks and through shops culminating with a kick-ass foot-stomping kazoo jam in Basin Park. How about 70 kazoos on "Sunshine of Your Love?" Eureka Springs could become Kazoo City USA.
February
9 – National Pizza Day is on Friday this year, so culinary artists of every stripe have an opportunity to throw down a pizza like Monet painted lilies. Who will create our Pizza of the Year?
22 – International Thinking Day, on which the president will probably be playing golf. Everyone else should set aside time to ponder. We could cogitate quietly at Lake Leatherwood, then have a thoughtful barbecue.
March
14 – National Pi Day – Students could compete to see who can recite the longest string of decimals for our favorite irrational number. Winner gets a pie.
20 – Extraterrestrial Abductions Day – Toronto hosted a festival dedicated to alien abductions and science fiction interests in 2008, and the idea stuck. Eurekans could watch bad sci-fi movies at the Auditorium. A group called Moon Joggers uses the date as an opportunity to stage 5 and 10K races to raise money for a variety of worthy causes.
April
International Guitar Month
3 – World Party Day – There's the reason.
6 – New Beer's Eve – On this date in 1933, folks lined up for hours outside taverns and pubs in anticipation of midnight when, for the first time in 13 years, it was legal to purchase beer. As luck would have it, April 6 is on Friday in 2018, which, of course, leads up to…
7 – National Beer Day – Legend has it President Franklin Roosevelt, upon signing the legislation that repealed Prohibition, remarked, "I think this would be a good time to have a beer." On that day in 1933, 1.5 million barrels of beer were consumed. Locally in 2018, establishments could start a tradition including education regarding lifelong moderation, designated drivers, and how to make your own homebrew.
8 – International Jugglers' Day – Sunday afternoon juggling exhibitions by gifted jugglers in our town.
19 – National Garlic Day – One of the oldest cultivated crops, garlic spread from Central Asia to the rest of the world. Egyptians sent King Tut on his trip to the afterlife with garlic bulbs. It's easy to grow and considered valuable for culinary and medicinal uses. This would be a Farmers' Market Day and a chance to honor the Stinking Rose.
23 – Shakespeare's birthday – It's a Monday in 2018, but over the weekend, players could perform snippets of Shakespeare's plays at venues around town. Could become a tradition on the future Community Center outdoor stage, as "all the world's a stage…"
30 – National Honesty Day – We figure the president will be playing golf.
May
4 – International Tuba Day – a jamboree waiting to happen. Taj Mahal once recorded a song featuring dueling tubas. How many tubas could fit into Basin Park? How many tubas are there in Eureka Springs? Taj Mahal has been here several times. He likes Herradura Añejo.
5 – National Naked Gardening Day – Arkansas is the Natural State. What an opportunity NNGD is, and it's during the May Festival of the Arts. Eureka Springs has a native plant garden downtown, and if promoted properly a natural event there might draw quite a crowd.
26 – International Jazz Day – It's during the May Festival of the Arts, and it's Miles Davis's ("Don't play what's there, play what's not there") birthday.
June
Accordion Awareness Month
2 – National Trails Day – A day for the Parks Department to show off its trails. (Trail mix, happy trails, paper trails, etc.)
4 – National Hug a Cat Day – Don't try this with just any cat (ask anyone nicknamed Scarface). There probably won't be a parade of cats, so this celebration might be homebound and low-key.
16 – National Hollerin' Contest – and only two days before a city council meeting. Also coincides with the Blues Weekend, so crowds would already be gathering.
26 – Beautician's Day and Forgiveness Day coincide, and each of us has had the choice of whether to forgive the person who perpetrated a particular haircut. Forgiveness, however, is an everyday adventure, and the first one to forgive is oneself. Then go from there, even to those who voted for the current president, who is probably playing golf.
July
2 – World UFO Day – Can the CAPC geofence Andromeda? We need to pull in the real experts from near and really far for this, but parking could be a problem for the larger saucers.
13 – Barbershop Music Appreciation Day – There is no music festival in town during July… just noticing… a capella harmony would be a fun place to start. We used to have it here, back in the '80s and '90s.
15 – Cow Appreciation Day – Can you envision that parade? A month's silage for the best-dressed bovine, and in the meantime, sell cow coozies, cow pens, Moo goo gai pan, and kids could enter their best cow photographs in a contest. Winner gets a hamburger.
20 – Ugly Truck Day – Eureka Springs already has weekends for Corvettes, Miatas and the rest, so why not honor our ugly trucks? It could be the longest parade of the year. We've all owned at least one.
29 – International Tiger Day – Sentiment might be against a parade downtown, but Turpentine Creek could stage a picnic, tour, and educational workshop leading to a chance to sponsor a big cat. Locals and visitors could get behind it.
August
1 – National Girlfriends Day, which coincides with National Raspberry Ice Cream Day. If you have a girlfriend, take it from there.
8 – Sneak Zucchini onto Your Neighbor's Porch Day or, Sharing the Wealth Anonymously. You know what they say, never leave your windows down while you're at church during zucchini season.
18 – National Honey Bee Awareness Day – Eureka Springs is a Bee City USA, so the whole hive could buzz around Basin Park or the Community Center; an opportunity for honey vendors to hawk sweet stuff, plus there could be beekeeping and pollinator plant workshops. Eurekans could lead the way toward saving our bee populations.
September
5 – Be Late for Something Day, followed by
6 – Fight Procrastination Day. Procrastination is not really a problem, and sooner or later, I'll tell you why, but not right now.
13 – Positive Thinking Day, in which the president will be positive he created the interstate highway system. Research shows positive thinking can make a person healthier by relieving stress, actuating focus and removing obstacles to simply being happier. A positive attitude leads to more laughing and less worry. Positive thinking does not require a parade or a party, just a commitment.
October
2 – Groucho Marx's birthday, in which we celebrate remarks like, "The problem with doing nothing is you never when know when you're finished," or "Blessed are the cracked, for they shall let in the light." Sounds like a Eurekan. There could be "A Night of a Hundred Grouchos" and a movie marathon at the Auditorium.
3 – National Boyfriends' Day, which is great if you're lucky enough to be one or have one, but October 3 is also National Kale Day on which we honor the mighty cancer-fighting crucifer with a kale casserole cook-off, a kale chip bake and a kale-inspired Plein Air art-a-thon. Bring your boyfriend… or girlfriend or spouse, or the whole fam damily. All Hail for Kale!
5 – World Teacher's Day – Good teachers deserve so much more than one day. We should acknowledge a teacher every chance we get, starting with a pay raise.
13 – International Skeptics Day – But who knows for sure? We could meet for a beverage and share doubts. One thing everybody knows for sure is nobody knows anything for sure, so that sets up a doubt-off at a party on Saturday night!
21 – National Babbling Day – in other words, talk like Tom Cotton explaining why the recent tax cut is the best thing since the last time he visited his home state and the sun was shining and his eyes are always crossed because the tax rate dividend ratio is incrementally contributing to the Middle East stability exponent over the long haul in spite of the Iran nuclear deal compared to investments in coal versus increased gerrymandering divided by DACA statistics, and remember that Jesus said there will always be poor people, which is Tom Cotton's excuse.
November
6 – Election Day – In what direction are we headed? Anyone who wants to voice an opinion about the performance of government should have done so before Election Day, but elections determine who makes laws. People are the leaders regardless of who holds office, but elections are opportunities to put into office folks who babble the least, listen intently and respect law and the will of the people. We don't know yet who will celebrate the results of the November 6 election, but we have learned not to take elections for granted.
14 – National Pickle Day – Cleopatra attributed her beauty to a steady diet of pickles. Homemade pickles have been a tradition worldwide for 4000 years, so recipes abound for pickling cucumbers, hot peppers, radishes, etc. Americans eat 5,200,000 pounds of pickles every year. Plus this date would coincide with the Food and Wine Festival, so restaurants in the progression around town could feature pickles Made in Eureka. Pickled Town USA?
December
15 – End of Prohibition Day – Let freedom ring! It will be on Saturday, and it's yet another opportunity for local establishments to display historical awareness and for residents and visitors from Denver and Wichita to huddle together over beverages and regale the Christmas lights around town… and behave responsibly!
28 – National Card Playing Day – Eureka Springs could host a statewide canasta tournament. Just envision the West Memphis against El Dorado winner taking on the Eureka Springs versus Mena survivor in the finals. It's a smackdown at the Inn of the Ozarks televised on Cox Cable. Mike Maloney could provide play-by-play commentary for an intense day at the Convention Center.
There are thousands of reasons to celebrate, too many to list here, and humanity is happier when it has a purpose and a party. Happy Spaghetti Day.