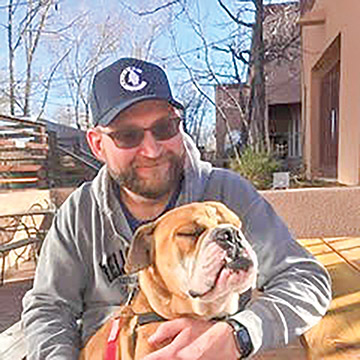 Paul Edward Dicks of Eureka Springs, Ark. and New Mexico was born August 16, 1977 in Colorado Springs, Colo., the son of Paul Owen & Barbara J Dicks (Chambers). Surrounded by his family and close friends, Paul departed this life on July 13 at age 41.
He is survived by his mother Barbara Dicks of Eureka Springs; partner Lauren Bobick of Corrales, N.M.; brother JR Dicks of Washington; his beloved dog Roscoe P. Coltrane, and many, many friends and family.
Paul is preceded in death by his father Paul O. Dicks, paternal grandparents Elwood Edward (Red) and Eula Dicks, maternal grandparents, Hallie Jewel Chambers (McGowan) and Clifford Boyd Chambers.
Paul graduated from Eureka Springs High School in 1995. He attended Arkansas Tech, the University of Arkansas, and obtained his nursing degree at Northwest Arkansas Community College.
Paul's nursing career began in NW Arkansas. He became a traveling nurse, which led him to the Navajo Reservation in New Mexico. Most recently he was employed by Presbyterian Rust Medical Center in Albuquerque.
Paul was a gentle giant of a guy. He had the best smile, biggest heart, and gave the most amazing bear hugs. His laughter, quick wit, and fun spirit were infectious. He always made sure everyone around him was having great fun. If you were down he would lift you high. Paul made countless friends wherever he went, but kept his lifelong friends close. He was devoted to his family. He was a kind, caring, and compassionate nurse, as he was in his day-to-day life. He was a great co-worker you wanted on your team. Paul loved the outdoors, a good brewery, and his Mama.
Memorial service will be held August 10 at Chelsea's Corner Café, 10 W. Mountain, Eureka Springs, starting at 4.
In lieu of flowers, the family asks for Memorial Donations to be made in Paul's name to: The Phyllis Poe Hands On Learning Center, which is being created in Paul's childhood home. Send to: Clear Spring School P.O. Box 351, Eureka Springs, AR 72632.