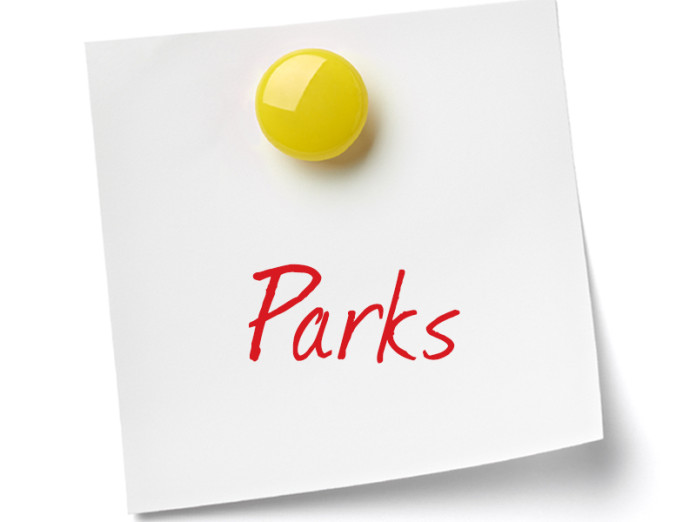 Eureka Springs Parks Department Director Justin Huss announced at the Oct. 17 Parks Commission meeting he expects to meet the target of $141,000 revenue for Lake Leatherwood City Park by year's end, and this figure represents a 200 percent increase over LLCP revenue in 2015.
Huss said income is already $10,000 above revenue from 2016 at this point with the refurbished cabins already booked in what was previously the off-season. He noted word about the cabins is getting out among visitors who would rather not stay in a tent. Also, the Arkansas Interscholastic Cycling state championships will take place Sunday, Nov. 5, along with a dog training event at LLCP Huss did not expect.
Also at LLCP was the recent soccer jamboree with more than 300 kids participating. Huss said the new goals have been installed at the soccer field, and the old goals sold for $500. Other improvements at LLCP to include adding decks and fire circles for some of the camping cabins.
The path to more trails
Huss stated the CC Riders, local branch of the Ozark Off Road Cyclists, "have been amazing" with their work on trails at LLCP and around town. "We would not be where we are without them," he said. Soon there will be a grand opening of the new trail near Black Bass Lake created by the CC Riders. To keep the momentum going, Huss wants to create a focus group comprised of mountain bikers who can provide informed direction for future trail projects.
Huss said grantors reached out to him regarding multi-use trails in town and at LLCP, and an important next step for the commission would be to convince them Parks could provide a meaningful match.
He estimated the two grants would equal $500,000 each, and his goal would be for Parks to be able to commit to a ten percent match. He would have to negotiate the match amount, which is typically more than ten percent but he explained that Parks could meet the $100,000 match if necessary.
Huss included in-kind labor as part of the match, and detailed his strategy for meeting the commitment. He told commissioners the best option for them would be to endorse the project and authorize a commitment up to that amount.
Commissioner Steven Foster said he was not clear on what Huss wanted them to authorize, and Huss replied, "You're approving you're committed." He called it a community buy-in, an opportunity to set a standard that folks who will use the trails will write articles about.
Chair Bill Featherstone saw the grants as an important opportunity for the city and the results would be a major step toward connecting all trails in the urban system with those at Black Bass Lake and LLCP.
Huss added one use of the grant funds could be to produce a biological inventory at LLCP, which would be useful for preservation and education.
Foster noted that plant experts expect to find rare plants in the glades at LLCP based on research in other parts of Arkansas, and if the commission plans to protect them, it needs to identify what is there. He commented Theo Whitsell, botanist and ecologist for the Arkansas Natural Heritage Commission, identified one species at LLCP, which occurs nowhere else in Arkansas, and 13 species on the critical list to watch. Foster also toured LLCP in September with Harvard researchers who were drawn there to look for woody plants.
After considerable parsing and syntax management of a motion, commissioners unanimously approved authorizing Huss to negotiate with the funding sources regarding the trails projects committing up to $100,000 total as a ten percent match for two grants, one of which must include a heritage inventory at LLCP.
Huss commented these grants would cut ten years of work down to possibly two years and reiterated this vote is a statement to potential funders Parks is ready to move forward on these projects.
Other items
Huss stated the new surveillance camera for Basin Park would arrive soon. When asked if the surveillance system has led to any convictions, he replied there have been at least a couple plus occasions when the video prompted responses by the police.

Foster said the Bee City USA Committee "buzzes along at its own pace" and is developing education presentations for the schools.

Commissioner Christian Super announced the new upgraded website is progressing, and he would present his work at the Nov. 14 workshop.

Huss said he ordered new Christmas decorations and staff have been refurbishing their existing inventory.
Next workshop will be Tuesday, Nov. 14, at 6 p.m., at Harmon Park, and next regular meeting will be Tuesday, Nove. 28, at 6 p.m., in the Auditorium lobby.