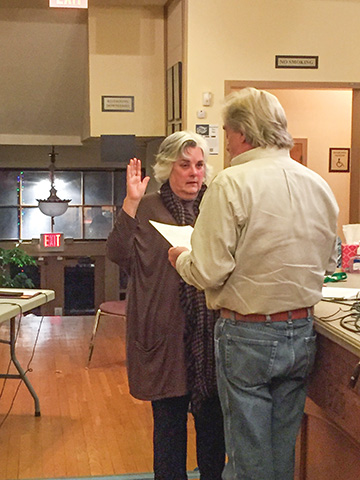 Alderman Kristi Kendrick moved on Monday to accept the resignation of alderman Peg Alderman from city council and declare a vacancy, and vote to approve was unanimous. Kendrick then moved to proceed with electing a replacement, but alderman Mickey Schneider said council needed the names of those interested, information about each person and clarification about the voting process before proceeding.
Alderman David Mitchell mentioned that City Clerk/Treasurer Ann Armstrong had prepared ballots with the names of five people interested, and Mayor Butch Berry said procedure prescribed by the Municipal League would be to mark a name on the ballot and sign it. A candidate would need three votes to be elected.
Schneider was adamant no signatures were required. "I don't care what the Municipal League has decided on their own. They are not an election commission… they do not understand a written ballot vote is private. This is illegal. This is against American rights from the beginning of this country, and if you're too chicken to stand up against the Municipal League or this State, then somebody should be because this is illegal. Your vote is private. I refuse to break the law," at which time she gathered her belongings and departed.
As Schneider exited, Berry refocused the four remaining aldermen on the task of electing a new alderman. The five names on the ballot were Greg Moon, James DeVito, Melissa Greene, Pat Matsukis and Taylor Weaver. Berry tallied the votes to reveal Greene got three votes, and Weaver, one. Council then took a brief recess after which Berry swore Greene in, and she took a seat at the table.
Greene was chair of Planning and also was a long-time Historic District commissioner. After she was elected to council she resigned both positions, although she said she would volunteer to continue with Planning if the commission had a problem seating a quorum. With Greene's resignation, Planning and HDC both have five commissioners.
Since Monday was the first meeting of the year, council had certain obligations to take care of, so aldermen voted to continue meeting on the second and fourth Mondays of each month, then voted for alderman David Mitchell to continue as mayor pro tempore for 2018. Aldermen agreed by vote to use the abridged version of Robert's Rules of Order as the guide for running meetings.