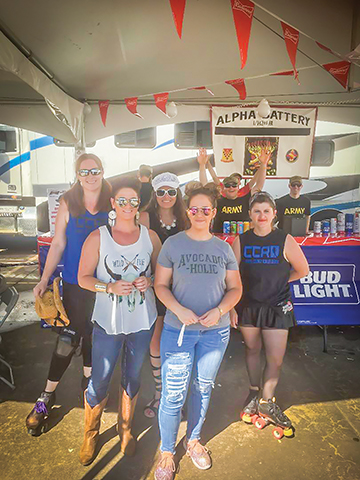 As the Carroll County Outlaws prepare for their upcoming bout, they've stayed busy on and off the floor. The ladies will bring flat-track roller derby to Carroll County for the first time ever when they match up with skaters from other leagues at 5 p.m. Saturday, Oct. 13, at the Berryville Community Center.
This sport has come a long way from the banked-track battles of the 1970s. It involves more athleticism than mayhem, and skaters promise a family-friendly event. The event theme is "Too Cool 4 School." The new version of roller derby has removed some of the elbow-throwing violence, but still involves a lot of physical contact. No one under 18 can sit in the "suicide seating" in the front row. "We still throw girls around the track, and they can end up in the audience," Barb Wire said. The skaters use colorful aliases, which adds to the fun.
Before and during the event, an announcer will help explain strategy and tactics, so even those who haven't seen roller derby can understand the interplay of jammers and blockers.
The Outlaws just have a couple of practices left, and they'll be ready to roll. They hope to see a good crowd, promise to put on an entertaining show, and in the meantime, adoring fans can keep up with the skaters on Facebook.
The skaters enjoy their sport, but they emphasize the importance of community involvement. During the Bikes, Blues, and BBQ weekend in Fayetteville, five of the Outlaws helped out at a booth operated by a group from the Arkansas Army National Guard. The booth helped raise money for the Family Readiness Group, which provides resources for soldiers and their families.
Children 12 and under will be admitted free, and discounted tickets are available for anyone serving in the military. School staff will also receive discounts at the gate.