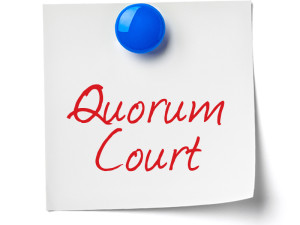 At Monday evening's Carroll County Quorum Court meeting, Justice of the Peace Lamont Richie shared an "unfortunate bit of research" he discovered. Carroll County has been part of a six-county Ozark Mountain Solid Waste District, one of 18 districts in the state established by the state assembly. The board of directors of the district is comprised of the six county judges and the mayors of all First Class cities.
Twelve years ago the district sold bonds to pay for a landfill in Mountain Home and the equipment to process the solid waste. Trash haulers in the counties took their waste to the site and paid a tipping fee of $2 per ton to dispose of their loads. Very soon, the landfill began leaking which drew the attention of the Arkansas Department of Environmental Quality. The landfill was ordered to take measures to remediate the leaks.
To pay for the remediation, the district increased the tipping fee, so four of the six counties began taking their solid waste elsewhere. Carroll County began hauling its waste to a site in Oklahoma.
Due to lost revenue and mounting expenses because of the required environmental cleanup, the district found itself operating in a deficit. By 2014, it had defaulted on its bond payments. A receiver was appointed to oversee the matter, and soon the district filed for bankruptcy. Judge Tim Fox of Pulaski County ruled that the district was not eligible to file for bankruptcy, and he would have denied the claim anyway because the district acted in bad faith since it could have increased service fees to address its financial health, but did not for political reasons.
To pay for the bonds and the $12.3 million owed ADEQ for cleanup of the landfill, Fox in April ordered the receiver to assess an $18 per year garbage fee on every residence and business in all six counties even though the landfill has been closed for at least four years. Repayment of the debts will take more than three decades.
"I was shocked to learn about this," Richie stated. He pointed out this order puts a tremendous burden on tax assessors and collectors in each county. In an apartment complex, each distinct residence will be assessed the $18 annual fee. Every separate business in a strip mall will owe the $18 annual fee, and tax assessors have the obligation of identifying who owes how much. There is no funding attached to these orders to help pay for the work involved for the counties.
Richie said the $18 fee will begin appearing on tax bills next spring, and "there's nothing we can do. It's over with." He said the county must go forward hoping it can find some money somewhere to offset the extra costs incurred by the assessor and the tax collector.
In addition, the assessor will have to confirm the information every year because property situations might change from year to year.
"If a property owner sells, the new owner will see an $18 fee for something they are not getting," Richie observed, reiterating it will take 34 years to resolve this.
"It's a done deal," he said leaving no doubt, and JPs looked at each other in powerless resignation.
JPs approved the following items:
The second reading of an ordinance to amend the Carroll County Employee Policy Manual regarding longevity payments.

An ordinance amending a previous ordinance to clarify that 10 road graders were being leased at a cost of $196,885 each.

A supplemental ordinance appropriating $20,000 toward the Eureka Springs Carnegie Library Raising a Reader program.

A supplemental appropriation ordinance to account for increases in worker's compensation insurance, provide additional funds for court house maintenance and for contract labor expenses.

A supplemental ordinance amending a previous ordinance to make sure line items are properly funded.

An appropriation ordinance allocating $155,322.81 for new voting equipment.

A resolution authorizing the adoption and implementation of new voting equipment.

A resolution authorizing Judge Sam Barr to communicate in writing with Ritter Communications, Inc., that under current Arkansas law no franchise is required for it to be able to offer video services to its customers in unincorporated areas of Carroll County.
Other items
Attorney Matthew Daniel of Ferrer, Poirot and Wainsbrough, a drug injury law firm, asked the court to hire his firm to go after manufacturers and distributors of opioid drugs. He provided a brief history of opioid use since 2000 and how it spread from medical use to addiction throughout the country. He claimed deaths from opioid abuse in Carroll County increased 350 percent in the past 17 years, and he wants to work with counties to prosecute distributors and manufacturers.
Daniel said although the problem is nationwide, he wants Arkansans to watch over Arkansans. His firm will get paid for successful litigation on a graduated scale. They will keep 25 percent up to the first $10 million. He maintained he is pursuing this because people with back pain got addicted to their medications and died. Doctors are doing what they were told to do– prescribe opioids– but counties have to pay for the side effects of abuse, and manufacturers are making huge profits.
Daniel handed a copy of his firm's video presentation to the court, and Swofford told him JPs would need to discuss his proposal with the sheriff and the district attorney.
Next meeting will be Monday, October 16, at 5 p.m.