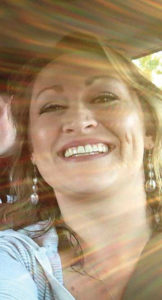 Mindy Little-Stevenson of Eureka Springs, Ark., was born June 18, 1982 in Denver, Colo., daughter of Lyle Jay Little and Terri (Porter) Little. She departed this life Saturday, Sept. 2, 2017, in Eureka Springs, Arkansas at age 35.
Mindy enjoyed dancing, singing and the outdoors. She was such a fun-loving, outgoing person who truly loved the Lord and her family. She knew no strangers and will be missed by all.
She is survived by her two sons, Kenyon Jay Stevenson and Hunter Roy Stevenson, both of Eureka Springs, Ark.; mother, Terri Little; father, Lyle Little and wife, Tammy, of Denver, Colo.; sister, Jenny Little of Las Vegas, Nev.; sister, Tina Zoretic of South Glens Falls, New York; step-daughter, Brenna Renae Kostiuk of Oregon; step-brother, Shaun George of Nebraska; niece, Brittany Bernash of South Glens Falls, New York; grandmother, Donna Porter; grandparents, Jack and Jan Little; aunts and uncles, Sue and Rick Wattier, Alice and Larry Thompson, Bill and Sandy DeYott; several other family, loved ones and a host of friends.
She is preceded in death by her sons' father, David Stevenson.
A Celebration of Life was held Sept. 9, 2017 at the First Baptist Penn Memorial Church, Eureka Springs, Ark., with Pastor Acra Turner officiating. Arrangements are under the direction of Nelson Funeral Service.
Memorial donations may be made to the First Baptist Penn Memorial Church, 100 Spring Street, Eureka Springs, AR 72632. Online condolences may be sent to the family at nelsonfuneral.com. © Nelson Funeral Service, Inc. 2017