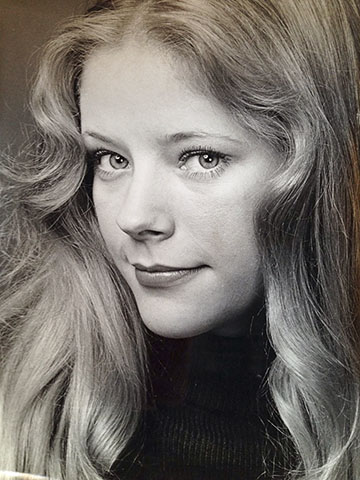 Mary was born in West Union, Iowa, on November 21, 1952, the daughter of parents Ingvar Edgar and Emily Alice Larsson. Mary passed away suddenly after her fight with complications from secondary radiation induced angiocarcoma, stemming from breast cancer, at M.D. Anderson in Houston, Texas, at age 67.
Mary is survived by her husband Larry G. Shackelford of Eureka Springs, Ark.; daughter Whitney R. Gwyn of Eureka Springs, Ark.; numerous aunts, uncles, nieces and nephews and many, many friends. She is also survived by her beloved "fur babies" golden retrievers Celeste, Stevie, and Charlie, and kitties Chloe and Sebastian. She was preceded in death by her parents and sister Susan Matthews.
Her childhood years were spent in Florida, Houston and Irving, Texas. She attended Irving High School, and graduated from Griffith Academy, where she was salutatorian of her class. Her life would bring many careers.
After graduation, Mary signed with the Peggy Taylor Talent Agency of Dallas, Texas, doing national television commercials, numerous national print ads, and modeling.
Mary then signed with the Kim Dawson Agency of Dallas. She was also Miss Winston with NHRA, appearing all over the country at various racetracks. She appeared in numerous high fashion shows as a runway model. She appeared in several films and videos and was a member of the Screen Actors Guild. She could also be found at any major live concerts there in the Dallas area in the late '60s and '70s, loving music.
During her modeling career, she met and married William Gwyn of Gainesville, Texas, where they opened a photography studio together. Their daughter, Whitney, blessed their lives during this time.
She was an accomplished photographer and artist, doing several ads and client photos. Mary was also an evening disc jockey at KGAF-AM in Gainesville.
Life then took her to Big Spring, Texas, where she continued her career in radio; Odessa, Texas, where she used her many talents as a general assignment news reporter for KOSA-TV for many years, where she met and fell in love with her photojournalist and best friend, Larry, married, and became Executive Director of the Midland-Odessa Health Retirement Endeavor (MOHRE).
Later in life, it was Mary's dream to retire to Eureka Springs, Ark., to set up her art studio and paint. She began her dream in August 2018, moving to Eureka Springs to begin a new chapter in life's adventure. Sadly, her cancer had other plans.
She loved her studies in various metaphysics and the teachings of all major religions and sciences. Mary was a strong, fiercely independent woman with a smile that could melt hearts, beautiful green eyes, and a wicked sense of humor. She will be missed by all who knew her.
As per her wishes, cremation arrangements are under the direction of Miller Funeral Services of Houston, Texas. Memorial services are pending. Memorial donations are asked to be given to your favorite charities in her name.