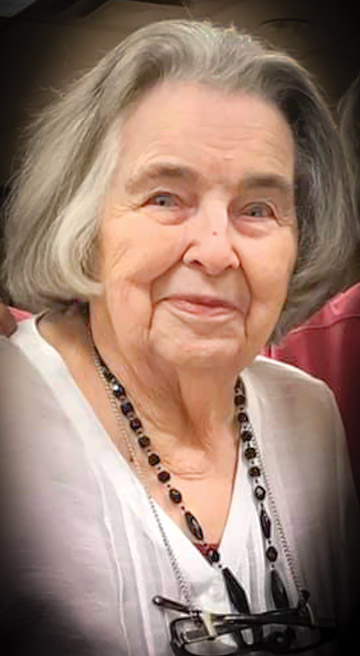 Marilea Alice Miller Tharp was born January 20, 1929 to Carroll Leon Miller and Ruby Lea (Churchill) Miller of Green City, Mo. Marilea passed peacefully with her children by her side. She was preceded in death by her parents, her brother Charles "Buck" Miller, sisters Doris Smith and Rae Sorensen, son-in-law Danny Wheeler, and her husband of 67 years, Robert.
Marilea and Robert were married May 1, 1948. They moved to Eureka Springs in 1973 and started Tharp's Open Air Market. Marilea worked in retail sales in many gift shops in Eureka Springs. She loved to quilt and frequently met up with a special group of friends to quilt and socialize. She made nearly 200 beautiful quilts and gifted many to her loved ones. Marilea also enjoyed working in her flowerbed and had a special touch with orchids. She also volunteered at the Flint Street Food Bank. Marilea was an avid reader and enjoyed playing games on her Kindle. 
Marilea will be greatly missed by her children, Michael Lee Tharp (Myrtle) of Berryville, Robert Bruce Tharp (Kathy) of Eureka Springs, and Deborah Ann Tharp Wheeler of Eureka Springs. Sisters of Marilea are Jean Sawyer of LaPlatta, Mo., Frances Francis of Liberty, Mo., and Eleanor "K" Campagna of Addison, Ill.
Grandchildren of Marilea are Jason Charles Jarrard of Fayetteville, Thomas William Tharp of Springdale, Andrew Jackson Tharp of Gillett, Pa., Robert Justin Tharp of Green Forest, Mary-Esther Elisabeth Bizzell of Berryville, Rebekah Jean Stoppel of Berryville, and Danelle Rae Muller of Ott Mountain near Eureka Springs.
Great grandchildren are Katrina Tharp, Austin Tharp, Alyssa Reed-Stoppel, Roy Chapin-Stoppel, Zoey Chapin-Stoppel, Zeppelin Tharp, Troy Tharp, and Isaiah Bizzell.
In lieu of flowers, memorial contributions could be made to the Flint Street Food Bank at 33 Main St., Eureka Springs, AR 72632. 
A joint memorial for Robert and Marilea to be announced at a later date.