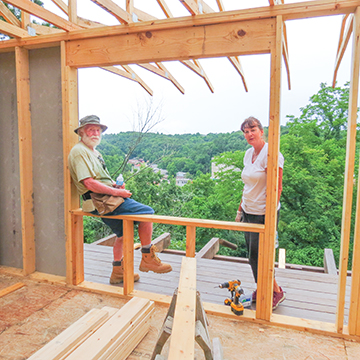 Becky Gillette – Currently underway on a hilltop piece of property above the East Mountain Overlook is a 16-unit neighborhood aptly named Eureka's Best View. The largest new housing development in Eureka Springs in many years is unique in that it has been designed as a "low impact development" with rain gardens and permeable surfaces to prevent excessive storm water runoff, property put aside for a park in the middle of the property, and a bird sanctuary.
The property is being developed by Dave and Carrie Marry, along with partners retired electrical power systems engineer Paul Hetzer, and his concert pianist wife, Tatyana Hetzer.
Each home in the neighborhood will be constructed with long-lasting, energy-efficient materials that require minimal maintenance. It is a neighborhood designed to blend with the diverse styles of homes and cottages in the area, while reflecting their interpretation of a style known as Craftsman.
Carrie said elements unique to Craftsman homes include overhanging beams, exposed rafters, open floor plans and lots of windows. Porches encourage outdoor living and a community ambiance.
"We are creating warm, welcoming and functional homes that have the power to nurture and sustain family, friends and the community," said Marry, who is also a holistic health coach.
There has probably not been another new development of this size in Eureka since the 1980s. And it is the first planned from the start to minimize the effect to the environment.
"Once we bought it and signed the papers, the reality of owning an incredibly unique piece of property in Eureka Springs meant much more than simply dividing up the property and selling lots." Carrie said. "We needed to plan something very special. Putting the infrastructure in place entailed many hours of planning and more money than anticipated. We have buried the electric and cable and are in the process of working with an engineer and the State Health Department to set up water and sewer systems."
It is common for developments in hilly areas to create heavy storm water runoff that can cause erosion and burden the sewer system. Eureka's Best View is being designed to hold as much possible storm water on the property so it won't end up flooding downstream neighbors or going into the city's sewer system.
Terraced and layered landscaping around the houses will retain water until it can sink into the ground. The road and driveways will be finished with permeable materials so the water soaks in instead of running off.
"We have permission for metal roofs, which will put off clean water, whereas asphalt shingles are very polluting," Carrie said. "We are happy knowing the water will be clean. Then it can slowly percolate into groundwater supplies after a storm."
Another challenge in an ecology-minded development like was the tree removal mandated by the Fire Marshall's safety stipulations. The reason the neighborhood was put in a loop formation around a central park was to take out as few trees as possible. They milled all the trees they took down and those are being incorporated into the first few houses being used as decks, posts, beams and planks.
Currently two homes are under construction. Dave said because of the slope of the land, half of the bottom of the houses are buried into the hillside. There are decks on the homes that have scenic views of downtown, and large windows upstairs and downstairs.
One common comment they are getting is that the homes are very well constructed. They are being built out of 2"x6" lumber, which is stronger and allows more insulation in the walls than standard 2"x4" lumber.
"We want to make them as energy efficient as we can so people will have a really well-built home with low energy bills, and almost zero maintenance outside of house," said Dave, a long-time carpenter in the community who also is known for the handcrafted Thumbprint Log Cabins he builds. "For siding, we're either using architectural stone or Hardiplank cement fiberboard, with Hardiboard trim around doors and windows. It is not a house that will need painting every five or ten years. You go up there in the spring and hose it off, and it is good for another year."
They are using local tradesman and products as much as possible, and windows are being made in Fort Smith. Dave said they are high-quality, attractive windows that are well priced.
"We want to pass on the benefits to new homeowners," Dave said. "We are putting in pocket doors in the bedrooms downstairs and trying to make the rooms multi-use so they could be a bedroom or an office or studio since we have a lot of artists in town. The decks outside are covered over and protected."
Landscaping plans include low-maintenance plants the encourage wildlife and that have deep roots that keep the soil open for water filtration. There are many native plant resources in the area they plan to use when ready.
Dave said the Craftsman-style home focuses on the appeal of the handmade rather than mass-produced. Each home is different.
Some people said they should have just built one big house on the property. But one huge house on the hill doesn't make a neighborhood.
Dave said they are trying to be as economical as possible, but the cost of labor and materials today is high.
"And we want it to be a neighborhood for a hundred years," he said. "It will be a genuine small area with great resale values. The selling points will be the quality of construction and the location just minutes from downtown. Our hope is to connect our neighborhood into the city walking trails."
The homes will be in the range of 1,450 to 1,600 square feet. For more information, call (479) 253-2383 or send an email eurekasbestview@gmail.com.