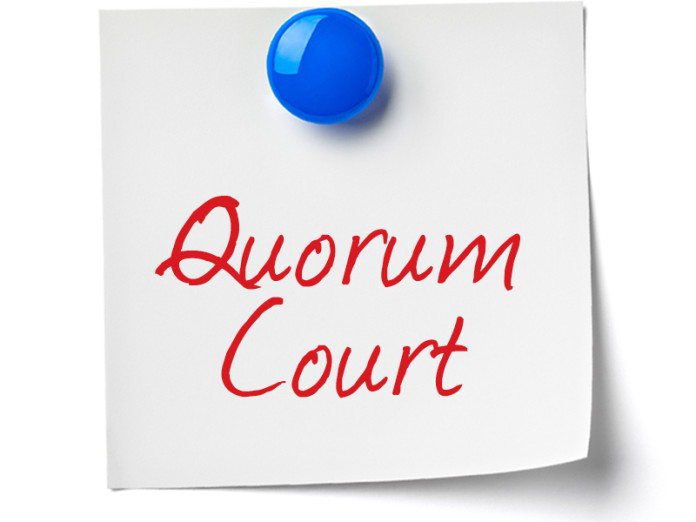 "I don't want to do it, but it must be done," JP Jack Deaton said at Monday's Quorum Court meeting regarding repeal of Ordinance 2016-18, passed in August 2016. Intention of the ordinance was to reward law enforcement officers who achieved a higher certificate by continuing education and training.
Deaton said he had two problems with the ordinance. One was that it was intended strictly to incentivize sheriff's department officers in order to retain them after they received the extra training. However, the county has other employees who continue training to do their jobs better, but do not get the benefit of the ordinance.
The other issue was with an unnamed supervisor. Deaton said the ordinance was intended for young officers who get hired and then pursue further education or training. However, the county has a supervisor who got training out of state before he came to Carroll County, then initiated a lawsuit against the county because he has not received incentive pay.
"He's just making it hard for his own officers," Deaton said, adding that therefore justices must rewrite an ordinance and a section the Personnel Handbook to reflect original intent.
JP Craig Hicks did not totally agree, saying the incentive was to reward officers based on education and years of law enforcement experience. Deaton responded those factors should be accounted for at hiring.
Lamont Richie added that the ordinance was limited to law enforcement, which he considered unfair and discriminatory. He said they knew several years ago the policy in place was haphazard, and the county wanted a way to encourage officers to acquire training necessary to achieve the next certificate level. He said the person Deaton referred to had levels of education, training and experience he could not possibly have accomplished in one year.
"When we wrote the ordinance, we intended for the person to receive the certificate while employed by the county," Richie contended. He said the discussion has been circulating for years. "We have a terrible system of how we pay all our employees" and noted some clerical workers with similar years of experience get more per hour than armed law officers who patrol the county.
Deaton stated that repealing this ordinance is the first step toward making the predicament better.
"We need to find a way to reflect the reality of what people ought to be paid," Richie said, calling the present salary structure "a lose-lose all the way around. We need to get our act together on this."
JP Larry Swofford declared incentives should not be for just one department. He asked what about a someone in the clerk's or assessor's office who passed a Spanish course to better serve citizens, or a mechanic in the road department who learned more about electronics in newer vehicles, to which JP Noreen Watson responded the Personnel Committee is already looking at this.
All three readings to repeal Ord. 2016-18 passed.