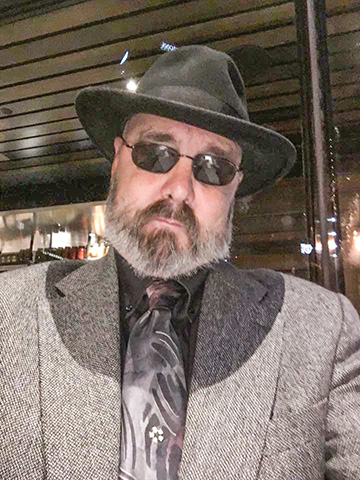 John Paul Guertin II, "JG," 58, of Madison, Tenn., died on Nov. 22, 2017. He was killed in a car accident in Fordland, Mo., while traveling to spend Thanksgiving with his mother and sister in Eureka Springs, Ark.
John was born March 1, 1959 in Phoenix, Ariz., the second of two children born to John Paul & Joan Barbara (Butsch) Guertin.
Following the death of his father, the little family moved several times before relocating to Las Vegas, Nev., in 1969 where as a teenager John met and went to work for Daredevil Buckskin Jack McElrath.
In 1975 Joan and John moved to Stillwater, Okla., where John graduated from high school in 1977. Following his high school graduation he enlisted in the Air Force. He spent four years as an aircraft mechanic stationed in Coco Beach, Fla.
John moved to Nashville after he got out of the Air Force and lived there for the rest of his life. He loved Nashville and loved being part of the music industry. In his almost 40 years in Nashville, John worked for almost everyone involved in the Nashville music scene. He toured with Lee Greenwood, Sawyer Brown, Brooks and Dunn, Pam Tillis and too many others to list here. He loved working with Kevin Welch, Johnny Neel, Poi Dog Pondering and he absolutely adored K.T. Oslin, they have remained devoted friends.
He was a loyal friend and would drop what he was doing if a friend called for help. He was a much loved brother and son and although we never spent enough time together, we spoke often and will I miss his presence and quick wit. He enjoyed a spirited debate and often used his Facebook page to incite conversation. His friends will miss seeing his insightful posts as the Johnny Lama and his pet loving posts on Pavlov was the Dog.
John is survived by his mother, Joan Guertin and sister Dorothy Guertin of Eureka Springs, Ark., the Sorensen family of Seattle, Wash., and the Butsch Family of Chicago, Ill. He will be forever missed by his friends in Nashville (too numerous to mention) and around the world including Donna Faye Harman, the Wyatt Family and Jamie Barnett Guertin, the woman he married.
A Celebration of Life will be held January 15, 2018 in Nashville, Tenn., at Soundcheck, 750 Cowan St (Room F, 740 Building), from 6 – 9pm. John's ashes will be interred in Nashville at a later date.
This was a Facebook post from John back in April 2017. "May all my friends outlive me so I don't have to dance at their funeral but they'll have to dance at mine. There will be a band but it's BYOB. Celebrate life. A moment in time lasts for a lifetime. Enjoy life." – The Johnny Lama.