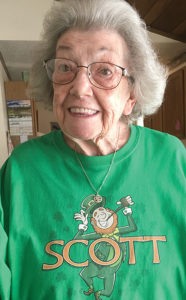 Jessie Anne (Colvin) Scott of Eureka Springs, Ark., born October 11, 1934 in Lawrence, Kansas, daughter of Victor K. and Margaret J. (Roper) Scott, departed this life Saturday, Sept. 9, 2017, in Fayetteville, Ark. at age 82.
Jessie was a 1952 Eureka Springs High School graduate and attended the University of Arkansas and Draughon's Business College in Springfield, Mo. She spent younger years living in many different towns in the United States but always came back to Eureka Springs. Jessie loved animals, especially her cat, Helga.
She is survived by her daughter, Andrea Colvin of Eureka Springs; Jerry Colvin, husband of 32 years, of Eureka Springs; sister, Victoria Kay Scott Ernst and husband, Tim, of Pleasant Hill, Calif.; grandchildren, Tara, Thalia, and Alex, all of Eureka Springs; great-grandson Lane; two nephews; special cousins, Jo Duncan, Mike and Carolyn Sutton, and many California cousins.
Jessie is preceded in death by her parents, Victor and Margaret Scott; aunt, Mary Kathleen Roper Morgan; uncle, Forrest Lee Morgan Sr., and cousin, Forrest Lee Morgan, Jr. (Pete).
Visitation will be 5 – 7 p.m., Wednesday, Sept. 13, 2017 at Nelson's Chapel of the Springs, Eureka Springs, Ark. Funeral Service will be 1 p.m., Thursday, Sept. 14, 2017 at the Parish Center in Eureka Springs with Father Joseph Archibong officiating. Interment will follow the service at the Eureka Springs Cemetery under the direction of Nelson Funeral Service.
Memorial donations may be made to the St. Elizabeth Catholic Church, 232 Passion Play Road, Eureka Springs, Arkansas 72632. Online condolences may be sent to the family at nelsonfuneral.com. © Nelson Funeral Service, Inc. 2017