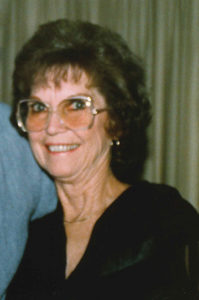 Jerry Ann Summers of Eureka Springs, Ark., born January 23, 1933 in Vinita, Okla., daughter of Lewis D. and Ida Mae (Collins) Lucky. She departed this life Monday, Jan. 29, 2018 in Eureka Springs at age 85.
Jerry was a wonderful cook and owned and operated Grandma's Beans and Cornbread restaurant in Eureka Springs for over eight years and Jerry's Coffeeshop in Simi Valley, Calif., for six years. She was always there for others when they needed a helping hand and often prepared and took food to others during an accident, illness or death in their family. Even when she was battling a health issue herself, she found the strength to prepare food not only for friends, but occasionally for the Eureka Springs Fire Department. Jerry had a passion for life and often showed her ornery side while playing poker. Her greatest joy in life was her family and friends. She was loved by so many and will be missed by all.
On April 16, 1955, she was united in marriage to William (Bill) Summers, who survives her. She is also survived by her son, Billy Summers and wife, Shelley of Eureka Springs; six grandchildren, Ashley Summers, Lauren Summers, Caitlin Summers, Garrett Summers, Brandon Jacobs and wife, Kate, Dalton Jacobs and wife, Savanna; nephew, Jimmy Evans and wife, Paula; nieces, Kim Jones, and Kristie Prokop and husband, Joe; numerous other relatives and friends.
She is preceded in death by her parents, Lewis Lucky and Ida Mae (Collins) Cromwell and stepfather, Wes; one infant daughter; sisters, Patsy Lou Evans and Shirley Jones; brother-in-law, Jimmy D. Evans; nephews, Brandon Snodgrass; William Glen Evans, Bobby Jones and niece, Jeri Lynn Evans.  
Funeral service was Feb 2, 2018 at the Nelson's Chapel of the Springs, Eureka Springs, Ark., with Pastor Gary Martin officiating. Interment followed at the Eureka Springs Cemetery.
Arrangements are under the direction of Nelson Funeral Service. Memorial donations may be made to the Carroll County Senior Center/Meals on Wheels, 202 W. Madison, Berryville, AR 72616. Online condolences may be sent to the family at nelsonfuneral.com. © Nelson Funeral Service, Inc. 2018