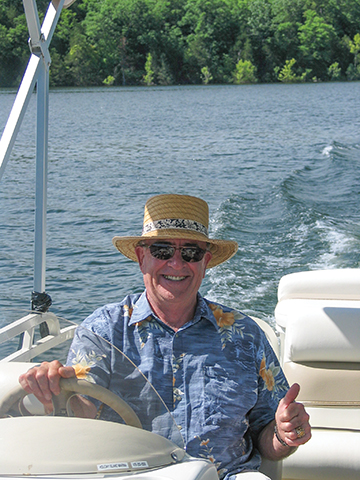 Jack Stone's soul slipped the mortal bonds of this life on bright sunny Dec. 11, 2017, soaring off our earthly plane with satisfaction and contentment in his heart for a life well lived. While his physical presence is gone, he will be remembered by many for his charm, wit, intellect, positive attitude, and always kind word.
Jack was born in El Paso, Texas, on Sept. 11, 1942 to Jean Ashley Stone and Jack Raymond Stone, Sr.
Jack attended Austin High School and University of Texas-El Paso where he majored in engineering. Though engineering was his education and a skill that served him (and others) well throughout his life, he found his career niche in sales in the financial industry. After being in sales management in the corporate world for many years, he took his entrepreneurial spirit and formed his own company in Overland Park, Kansas, and is nationally respected for the custom insurance products he created for major automobile manufacturers in the U.S. and Canada. He was known as a fair and generous employer who provided full benefits for employees and their families.
In 2007, Jack moved into a well-deserved retirement at Holiday Island, Arkansas, where he enjoyed computers, hiking, kayaking, playing Scrabble, traveling and spending time with the love of his life, Paula Kay Houston Koch, who survives him. Until his illness, he was the go-to computer tech for the Good Shepherd Humane Society both at the shelter and doggie shop. He spent the last months of his life fighting for our democracy with calls and e-mails to senators and representatives, as well as frequent blog postings on financial websites.
Jack was a member of Unity Church of Overland Park, Kan.
Jack was predeceased by his father, Jack Raymond Stone, Sr., son John David Stone, sister Alice Rediker, and baby sister Thalia Bernice Stone. Survivors in addition to Paula include his mother Jean Stone of Albuquerque, N.M.; son Mark Stone (Jenny) and grandsons Ethan and Austin of Olathe, Kan; and sisters Ida Kelly of Albuquerque; Melanie Douglas of Chicago; and Candace Wolf of El Paso, as well as nieces and nephews and grand nieces and nephews.
Special thanks to the staffs at Circle of Life Hospice, Earlene Howard Hospice Home, and Highlands Oncology Group for their amazing care.
A scattering of ashes will be held later in the Rose Garden at Unity Village, Mo., followed by a Celebration of Life.
If desired, memorial remembrances may be made to Circle of Life Hospice, 901 Jones Road, Springdale, AR 72762 or Healing Gardens of Northwest Arkansas, P. O. Box 1289, Rogers, Arkansas 72757.