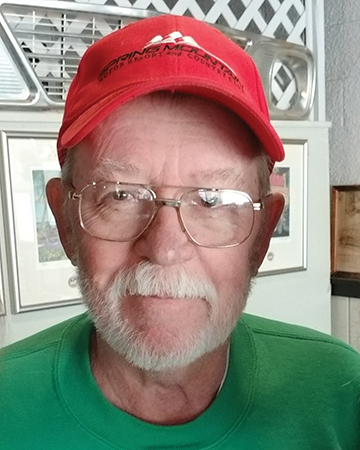 Jack French of Berryville, Ark., was born August 1, 1947 in Cairo, Ill., son of Jackie Lovell and Mary Frances (Delk) French. Surrounded by his family, he departed this life, Thursday, December 7, 2017 in Berryville at age 70.
Jack retired from Southwestern Bell Telephone as a lineman after 30 years of employment. In 2001 he owned and operated Two Jack's Pawn Shop in Eureka Springs, Ark. Jack was a member of the Elks Lodge and official mailbox holder at the Rowdy Beaver.
He enjoyed hunting, fishing, playing slots, traveling, and playing pool. He was always up for a celebration, but most of all he loved spending time with his grandsons. Our hearts are broken, and our minds continue to flood with happy memories, funny stories and a wish that we could bring him back. We can't believe he is gone. The most loving and caring husband, dad, incredible grandpa and friend to many, we will miss him more than words can express. He never missed a birthday or event for his grandsons and was always there when they needed him. He wasn't ready to be done with this life, but we know he is in a better place watching down over his grandsons, and continues to be their biggest fan. ❤ Thank you to everyone who has reached out to us with their kind words, fun stories and memories of our dad and loving husband.
On April 13, 1991 he was united in marriage with Sherry Lee (Nelson) French, who survives him. He is also survived by his children, daughter, Stephanie Crider and husband, Louie, of Broken Arrow, Okla.; daughter, Natalie Cowdrey and husband, John, of Boulder City, Nev.; stepson, David Brent Pinkley of Branson, Mo.; four grandsons, Sam Crider, Ben Crider, John Cowdrey and Barrett Cowdrey; brother, Tom French and wife, Cindy; brother, Mike French and wife, Nancy; sister, Mary Walker and husband, Bruce; sister, Vickie French; numerous nieces, one nephew, other relatives, loved ones and so many friends too numerous to name.
He is preceded in death by his parents, Jackie and Mary French; brother, Ricky French; and stepson, Brandon Pinkley.
Visitation will be 5 –7 p.m., Friday, Dec. 15, at the Charles M. Nelson Memorial Chapel, Berryville, Ark. Funeral service will be at 11 a.m., Saturday, Dec. 16, at the Charles M. Nelson Memorial Chapel with Pastor Skip French officiating.
Interment will follow the service at the Berryville Memorial Park Cemetery, Berryville under the direction of Nelson Funeral Service. Memorial donations may be made to Hospice of the Hills, P.O. Box 1927, Harrison, AR 72601 or First Christian Church, PO Box 187, Berryville, AR 72616. Online condolences may be sent to the family at nelsonfuneral.com. © Nelson Funeral Service, Inc. 2017