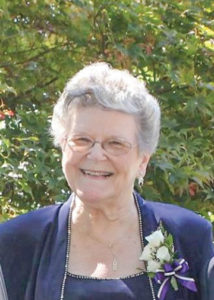 Itha "Kay" Halper of Eureka Springs, Ark., born October 5, 1937 in DeQueen, Ark., daughter of Clarence Daniel and Rachel Caddell. She went to be with her Heavenly Father, Tuesday, Sept. 26, 2017, in Hot Springs, Ark. at age 79.
Kay was a member of the First Christian Church and was in their women's group. She was wonderful cook who loved to entertain and was gracious hostess. Everyone who knew Kay knows her true passion was volunteer work, especially at Brighton Ridge Nursing Home.
One of Kay's last wishes was to donate her body to the University of Arkansas Medical Science in hopes that their research would be a benefit to others in the future. She loved the holidays and spending time with family every chance she got. She was one of kind and will be missed by so many.
On October 4, 1995, she was united in marriage to the love of her life, John Halper, who survives her. She is also survived by her daughter, Danita Marrs of Eureka Springs; bonus son, Fred Halper and wife, Becky, of Eureka Springs; bonus son, Dieter Halper and wife, Spring, of Enid, Okla.; brother, Wayne Ward and wife, Connie, of Tempe, Ariz.; grandchildren, Nicona Marrs Jones, Farmer Marrs, August Marrs, Dillon Halper, Johnny Halper, Alex Halper, Brittney Halper, Julie and Andy Viglietti, Ashton Halper; great-grandchildren, Lucas, Logan and Kaylee Jones, Nick and Kyleigh Halper; numerous other relatives, loved ones and many close friends.
Kay is preceded in death by her parents, Clarence and Rachel Caddell and one brother, Larry Caddell.
A Celebration of Life will be at 2 p.m., Tuesday, Oct. 10, 2017 at the First Christian Church in Eureka Springs with Pastor Mark Golaway officiating. Memorial donations may be made to the First Christian Church, 763 Passion Play Road, Eureka Springs, AR 72632 or Brighton Ridge Nursing Home, 235 Huntsville Road, Eureka Springs, AR 72632. Online condolences may be sent to the family at nelsonfuneral.com. © Nelson Funeral Service, Inc. 2017