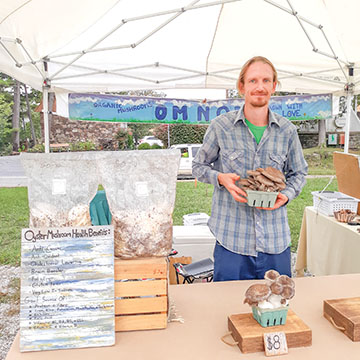 Ashley Hill, who has lived in Eureka Springs since he was about four years old, has always loved growing and working with plants. About ten years ago, he was visiting a friend in an off-the-grid house who invited him to visit a small structure made out of straw bales being used to grow oyster mushrooms.
"That was one of the triggers," Ashley said. "I decided I would really like to do that. At that point in my life, I wanted to create some kind of business. I had property at the Kings River for quite awhile and decided to move out here in 2016 and start a business. I had moved into a school bus, and there was no power or water on the property. I built a bathhouse and put in a septic tank to get power out here. I got power and tapped into a neighbor's well. Then I had Chris Epley build a 15 ft. x 30 ft. mushroom building."
That was the start of his Ozark Mountain Nibbly Organic Mushrooms (OMNON). While mushroom growing can be easy with the right conditions, Ashley found it also came with challenges. He lost some crops to insects and mold.
"It was a huge learning curve," Ashley said. "I started off by reading some mushroom books. They had a lot of general information, but not much about the actual growing part. There wasn't a lot of good information online at the time."
He started out with the oyster mushrooms because those are some of the most productive and easiest to grow. They can be grown on a lot of things including straw, sawdust, coffee grounds, etc. He used straw because it could be pasteurized.
Through trial and error, he became more skilled at growing a number of different types of mushrooms. He recently expanded the size of his growing facilities and changed to a totally different process.
"I wanted to grow more mushrooms," Ashley said. "To do that, we had to have a lab, a clean room, and more space. Pretty much all mushrooms we grow – Lion's mane, hen of the woods, beech mushroom, chestnut mushroom, reishi and king oysters – like growing on wood. All require sawdust or wood substrate. We are now doing half wood and half soy hulls that provide extra nutrition. With this particular substrate, we have to sterilize it, so the work has to be done inside. It's a lot cleaner, way less chance of contamination. And I'm finding it is higher yielding than the straw."
He was able to produce about 70 pounds of oyster mushroom per week in his first building. He recently constructed another building, 16 ft. x 32 ft., moved the spawning room in that building, and added an autoclave room to sterilize substrate and spawn. Now he can produce 300 to 600 pounds a week of different mushrooms. In addition to selling mushrooms at the Eureka Springs Farmers' Market on Thursdays, Ashley also sells to restaurants and grocery stories.
"Everyone I sell to, the chefs especially, seem to love the mushrooms," Ashley said. "Chefs have a lot of interest in certain types of mushrooms. People are super happy they are able to get local, fresh, organically grown mushrooms. I haven't had a bad response ever. It has all been positive. There are a lot of people waiting for certain mushrooms, so that's exciting. Pretty much every mushroom I grow has a home. There is no wait to sell them."
He has a sign at his farmers' market booth touting the health benefits of oyster mushrooms. Ashley thinks a lot of customers don't know about the health benefits and are just buying them because they are delicious. Some find them a good substitute for meat.
"All mushrooms are high in protein and highly nutritious," Ashley said. "Oyster mushrooms have lots of B vitamins, iron, zinc and phosphorus. They are low in cholesterol, and anti-carcinogenic. Lion's mane is one of the more medicinal mushrooms, and renowned for its ability to help memory. They are good for any kind of neurological disorder. They help with anxiety if you eat them over a period of time. There is research that lion's mane mushroom helps regrow neurological pathways for people with Alzheimer's. The flavor and texture are also really good."
While Eureka's tourism-based economy slows down in the winter, it is actually a great time for mushrooms.
"We grow indoors, so we can grow year-'round," Ashley said. "All the mushrooms I'm growing are cold weather mushrooms. They grow well around 50-60 degrees, so I use hardly any heat. In the winter, they grow slower but are thicker, nicer and juicier."
He also said that mushrooms can be produced with far less land and water than required by animals. There is also no livestock waste that can damage local waterways.
"Mushrooms are way better for the environment, and many of them like the king oyster mushroom taste really meaty," Ashley said.
In addition to the edible mushrooms, Ashley also sells mushroom-themed art such as refrigerator magnets and jewelry. And, for customers who want to get in on the fun, he is currently selling oyster mushrooms that you can easily grow yourself.