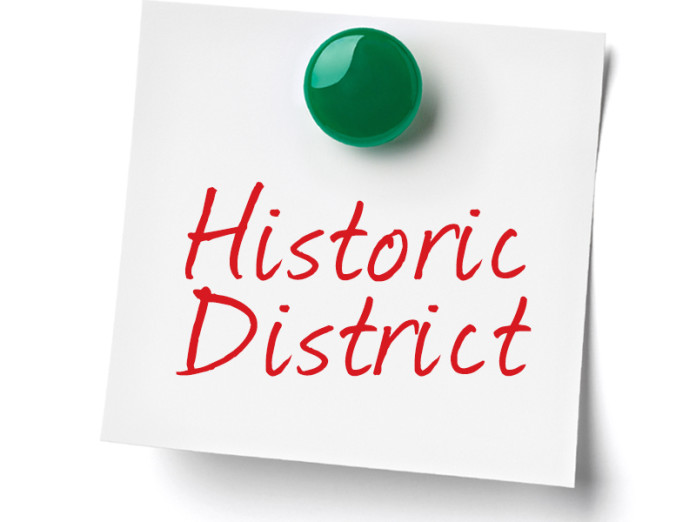 At the Oct. 3 meeting, the Historic District Commission stood by the guidelines in denying an application to remove two non-functioning chimneys at 9 Prospect, a contributing property. The chimneys were, in fact, already removed.
The summary of facts indicated the chimneys had been shortened at some point since a 1900 photograph of the house. Contractor Penny Pemberton stated the chimneys were cracked and unstable below the roofline, and an expert told her they were not salvageable.
Commissioner Mark Ingram noted one option for the commission was to have the applicant rebuild both chimneys in the original configuration, and commissioner Dee Bright added they have had other applicants rebuild features that had been removed without permission.
Ingram pointed out, however, the guidelines also state a non-functioning secondary chimney could be removed. Pemberton lobbied for rebuilding only one chimney, and Ingram agreed one of them to him was "insignificant and very secondary."
Commissioner Judy Holden cited the guidelines, though, and stated, "I say keep both."
Vote to have both chimneys rebuilt to the original configuration was 4-1, Ingram voting No.
Commissioners did vote to allow Pemberton to install stained glass panels in the front door.
Commissioners approved these other applications:
150 N. Main – extend siding on addition

55 Kingshighway/55 Alamo – new construction: storage building.
A single item on the Consent Agenda was approved:
75 Prospect – add stair rail to match existing.
Consent Agenda items are Level I applications that City Preservation Officer Glenna Booth believes to be in accordance with the design guidelines.
Commissioner Steve Holifield presented Administrative Approvals, applications for repair and work involving no changes in materials but include changes in roofing and paint colors:
228 Spring – replace lattice under porch

53 Vaughn – re-roof

9 Prospect – replace sidewalk
Booth announced she sent out eight welcome letters to new homeowners in the historic district as part of their community outreach.
She also announced the Cemetery Commission held a Conservation Workshop at the Eureka Springs Cemetery Saturday, September 27, in which volunteers cleaned 121 of the historic grave markers. There will be another conservation workshop Sunday, October 27, starting at 9 a.m. Volunteers are welcome and supplies will be provided.
Next meeting will be Wednesday, Oct. 17, at 6 p.m.