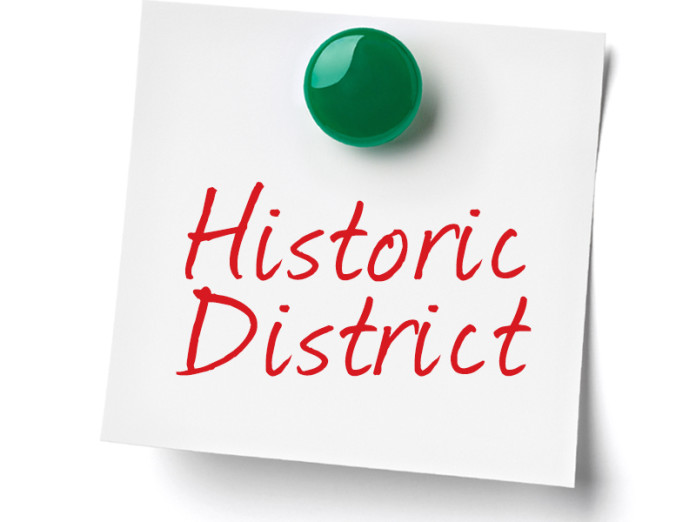 At the Oct. 18 Historic District Commission workshop, the five commissioners present voted to approve clarifying their guidelines to read that if a quorum of four commissioners were present that a majority of votes cast in favor would pass the motion.
A disagreement arose among commissioners during the past month when Chair Virgil Fowler stated a motion passed when only three out of five votes cast were in favor. He said HDC guidelines were not clear for that. He pointed out HDC guidelines state, "The vote of the majority of members (a minimum of four votes when there are seven commissioners) shall be sufficient to decide the matters before the commission provided a quorum is present." Fowler's reading was the guidelines did not clarify what constituted passage if only five or six members were present.
Historically, the commission had required four votes for passage regardless of how many commissioners were present or how many voted on a matter. Fowler took the question to city hall for clarification, and received copies of procedures for the Planning and Parks Commissions which he distributed at the meeting. The procedures for Planning state, "Most votes require a simple majority. The majority is based on the number of people voting. More than half the votes must be in favor for a vote to pass." Fowler observed this is counter to how Planning has been operating.
He also pointed out the procedures of Parks state, "The attendance of three commissioners shall constitute a quorum," which he maintained is contrary to how Parks has been operating. He added Robert's Rules of Order reads, "When a quorum is present, a majority vote, that is simply a majority of votes cast, ignoring blanks, is sufficient for the adoption of any motion that is in order" except for specific circumstances listed elsewhere.
Fowler said claims to the contrary – that four votes are required for passage – have not been backed up by any documentation.
Commissioner Mark Ingram said HDC should abide by what is written in the guidelines, and insisted they should get into the habit of having the Chair vote every time. He proposed, "Let's write it how we think it should be."
Fowler suggested in the case of a commissioner present who decides not to vote they still rely on the number of votes cast. He stated, "We've been fed a bunch of lies… there is nothing to back up what they said."
Commissioner Suzie Allen suggested they go by a majority of votes cast, not by the majority of the number on the commission. During the regular meeting, commissioners voted to approve this change to their guidelines.
Regarding violations
Fowler told commissioners Mayor Butch Berry and Building Inspector Bobby Ray would attend the Nov. 1 workshop to discuss procedures related to complaints of violations of HDC guidelines, including assigning appropriate fines. Ingram stated the commission should let Ray advise them in defining the amounts of fines for violations.
Fowler continued that inconsistent follow-up by the city as well as inconsistent decisions by the commission over the years are "ruining the [historic] district by changing it so drastically." He claimed the commission has been "losing perspective of what matters," and his goal has been to "put the reins on all the things that shouldn't be happening."
Regarding follow-up to complaints, Fowler claimed there has been a lack of repercussions, but also maintained some commissioners have been willing to let things go. "If we are not following our own rules, why should we expect anybody else to?"
Ingram agreed consistency was a key to assuring compliance with guidelines, and he suggested getting the packet for the meeting earlier would be help because he would have a better chance to see the properties in question.
Fowler added he intends to open a discussion about setting a limit to how many consecutive terms a commissioner can serve.
During the regular meeting, commissioner approved these two applications:
114 Armstrong – remove part of chimney

150 N. Main – enclose part of rear porch.
Two items on the Consent Agenda were approved:
57 N Main – new paint color; new sign

314 Spring – replace concrete porches
Consent Agenda items are Level I applications that the City Preservation Officer believes in accordance with the design guidelines.
Fowler presented Administrative items, which are applications for repair and work involving no changes in materials or color but which include changes in roofing color:
34 Spring – replace skylights

Rock House stairway – Repair stairs & railing

26 Jackson – re-roof

11 King – re-roof

86 Spring – replace front deck flooring

8 Kingshighway – re-paint same colors

95 Spring – repair, repaint stucco

16 Eureka – replace deck
Commissioners also voted to move approval of paint colors from the Consent Agenda to Administrative Approvals.
Next meeting will be Wednesday, Nov. 1, at 6 p.m., in the Auditorium lobby, preceded by a workshop on Code enforcement procedures at 5 p.m.