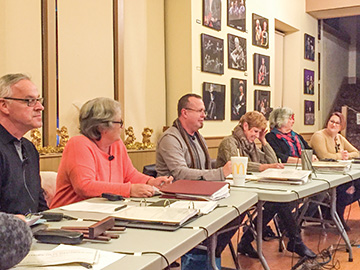 The Historic District Commission met Jan. 3 for the first city government of the New Year, and one of the three applications considered was for renovations at St. James Episcopal Church on 34 Prospect, a contributing structure built in 1897. Vice-chair Steve Holifield represented the application as project manager.
The application stated two cement and brick decks in the front and on the right side were added in the 1970s, and the plan was to remove them and construct new entry porches and stairs with handrails and sidewalks compliant with regulations of the Americans with Disabilities Act.
Also part of an 1980s addition was a new chimney which since has been repaired with different kinds of bricks and is now spalling. Holifield wanted to remove the chimney and replace it with siding to match the rest of the structure. In addition, 46 storm windows will be added over existing windows.
Commissioner Melissa Greene said the application seemed appropriate, and commissioners unanimously approved the application.
Also was approved was an addition to an existing shed at 190 N. Main. Since the addition had already been built, commissioners approved the project with the promise any future work done on the property would come before them first.
Commissioners also approved replacing a fabric awning over a deck at 57 N. Main with a corrugated metal roof. The Fire Department had determined the fabric awning might be hazardous since the area below would be used for popping kettle corn.
These items on the Consent Agenda were approved:
101 E. Van Buren – replace two stairway awnings with roof to match existing roof

114 Armstrong – remove chimney cap

216 W. Van Buren – new sign
The Consent Agenda items are Level I applications that the City Preservation Officer believes to be in accordance with the Design Guidelines.
Holifield presented Administrative Approvals, applications for repair and work involving no changes in materials or color but which include changes in roofing color:
101 E. Van Buren –new paint colors

124 Spring – replace damaged soffit, facia, siding
In other business, commissioners voted in officers for 2018: Chair – Steve Holifield; Vice-chair – Dee Bright; Secretary – Mark Ingram; Treasurer – Wendi Super.
Next meeting will be Wednesday, Jan. 17, at 6 p.m.