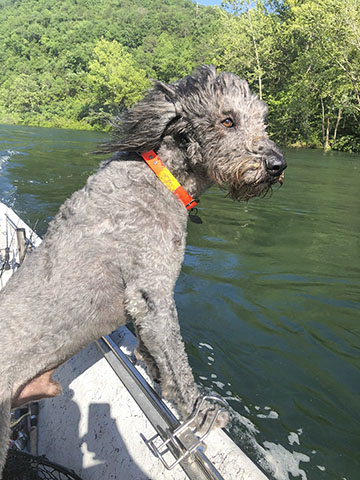 The weather is still going strong and beautiful. With the cooler temperatures it perfect time to head out on a fishing adventure with your best buddy… your dog. Does Weather Affect Dog Behavior? Yes. Weather—including rain and snow, temperature fluctuations, and changes in barometric pressure—can affect dog behavior.
It's similar to the effect weather can have on fish or even your own mood and energy. You're likely peppier on sunny spring days, while on a cold, grey, rainy day you may feel more interested in a movie marathon on the couch.
On those hot summer days, it`s a better idea to leave Fido at home for many reasons. But with this kind of weather is an ideal time to let them head out the door with you. Sure, there are more preparations and precautions you may have to take but the rewards are immense for you and your pet. The bonding, exercise, and the snapshots like this one of our pal pictured here, Snoop, is worth all the preparations. He loves the great outdoors.       
Fly fishing has been really good the past few weeks with the Corps not releasing water until afternoons. I`m going to suggest trying something new. I think you will have little more work, but the effort has been producing.  
Double-fly nymph rigs, try an egg pattern 18 inches below a cerise San Juan worm. Switch it up.
Bank fishing has been well on both the lakeside and riverside. Cooler weather has fish heading into the shallows.
Boating on the river has goone abnormally well with all slot limit fish bigger this week. Trout are more active when water starts running from generating in afternoon.
Drifting most anything, nightcrawlers, shrimp, minnows, Powerbaits with a wax worm and your favorite jigs.
To see some more great pictures and more info check out our Facebook page at Custom Adventures Guide Service. (479) 363-9632 
Since kids are in school "Take a dog fishing."