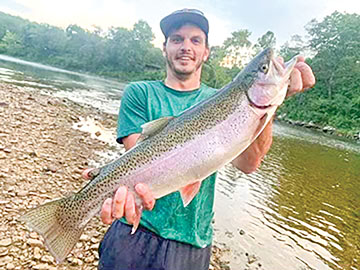 I hope everyone had a happy, fun-filled, and most of all safe Labor Day weekend. The lakes were busy, the rivers were hopping, campers were camping, and picnic tables were full. Love to see all out enjoying their weekend.
Just don`t want to be in the middle of it all. That`s why I love living here so much. The people who live here can enjoy it during the weekdays. With Covid not letting up I personally think the safest place to be is outdoors away from people, like these two friends Tyler Christian Steele and Dylan Boyd on White River below Beaver Dam.
Tyler caught this nice Rainbow Trout while the river was not generating, it came in at 25+ inches, 15.5 inches in the girth. Using the measurements, it was estimated to weigh around 7 pounds.
He was using nightcrawler, 4 lb. test line, and light action spinning rod. Dylan said, "It gave a fantastic fight jumping into the air several times."  Tyler was overly ecstatic, you can see a video of him shaking with his joyful excitement on his Facebook page, also on Dylan's page. I thought his video was a great way to reveal his personal best trout every on this body of water. Good job guys!
Other good reports are that bream fishing is still really good everywhere these days. Leatherwood, Beaver, Table Rock lakes, and all warm water creeks have been producing.
Crickets are a hot commodity right now. If your unable to get your hands on crickets, then try live little red wiggler worms. You get twice as many worms with them as you do with nightcrawlers, plus you don't have to break them into pieces.
Please check us out on Facebook at Custom Adventures Guide Service for even more exciting pictures and videos. Or give us a call at (479) 363-9632 to book your custom adventure with us.
Remember to take a kid fishing.