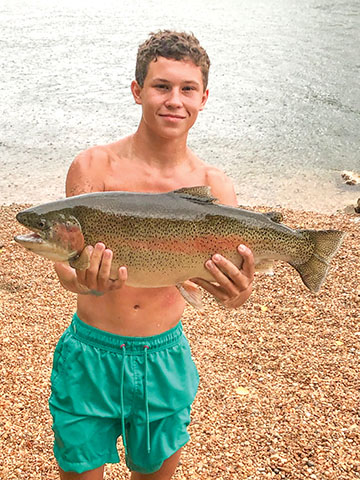 I hope you all had a wonderful week. Mine was full of surprises all week long. For my birthday my sweet husband took me to my favorite place of all, Buffalo City, Ark., over on the White River near the Mountain Home.
We stayed with the best ever outfitters, Riley's Outfitters. They offer over and above for all your needs. I have been staying with these folks for 20 years it`s like being at home.
While we were there right in front of our cabin the fish truck came aand released fish, so we really didn`t have far to go to get our action. We watched two young men from Mississippi catch two big hogs, both rainbows, one was 7 lbs. and one 6 lbs.3 oz. It was quite the show.
Then on Thursday, I was privileged enough to be scheduled with AG&FC trout stocking raft which we floated and released fish all the way from Calico Rock to Sylamore Landing, about a 17-20 mile float. It did not seem that long at all with great scenery, great company, great knowledge that I received from my Capt. Kent Coffey, the AG&F technician who loaded the boat with 2,500 trout from the hatchery fish truck and stocked them all downriver from Calico Rock.
Then we picked up another load at Sylamore and went on down some more. It was quite the trip. AG&F and U.S. Fish and Wildlife stock more than 13 million fish in public waters in Arkansas. Of these, about 1/3 go to the waters near Mountain Home. Most of these are trout that go into the White, North Fork, and Spring River. All the fish that we receive are released from the truck at the boat ramps along the river. They are able to scurry throughout our small river.
 Fishing was great there and we have had great reports every day here at home. You can see more great pictures of our trip and the action happening right here on our beautiful White River on Facebook @ Custom Adventures Guide Service or give us a call at (479) 363-9632.