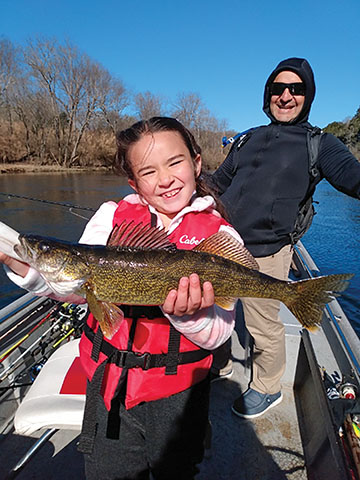 Redbuds are blooming, white bass are just around the corner. The peak of the spawning run will be when the temperature of the water reaches around 60 to 65°. So, we have a little way to go until then.
While we wait let's stack up some walleye like this little lady Sophie did on her trip with her family. Richard Lee Rusher had the opportunity to take them out on the river, he said the only way to describe this trip was amazing!
He reported that this was Sophie`s first walleye ever, and she also got her personal best trout on this day.
After the sun came out and it warmed up a bit, little sister Camila kicked into gear, catching her very first trout ever with some help from Dad. Fun family bonding. Take a kid fishing. They will remember it for a lifetime.
With this warmer weather, it is waking up all kinds of fish to be had. Crappie on Beaver Lake, catfish at SWEPCO Lake, slab bream on Leatherwood Lake, and bass on Table Rock Lake. The key is to get out. You can't catch them on the couch.
Look us up on our Facebook page for more info, pictures, and videos. Or just give us a call at (479) 363-9632
"When life doesn`t offer you everything you need, you need an adventure" Custom Adventures Guide Service