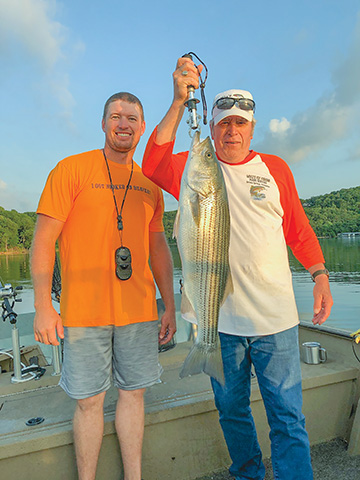 This week's weather was sultrier, but Mike Foley of Mike's Fly Fishing Guide Service put his fly rod down for a day and hooked with up with Zach Penland who runs Get-N-Hooked on Beaver Fishing Guide Service. Zach was able to show Mike what Striper fishing on Beaver Lake is all about.
So, we know Striper fishing has been good even with water levels going down. The earlier the better. It`s best to be out there before the sun rises and wait, plus it's a very rewarding feeling inside to watch the sun come up over that horizon. Trolling with live bait, be it brooders, perch, or if you're lucky enough to find some shad, they are the all-time best. I would not give up on my top water lures. Again, do it early, after about 10-11 a.m. it`s over.
Beaver Tailwater has still been so good for trout fishing. As close to the dam as you can get has been the hottest spot. Water temperatures down around Houseman Access are pushing into the 80s, where 8 miles up at the dam water temps are 47-50°.
Night crawlers injected with air has been the biggest producer for us this week. White power bait with sunrise and wax worm did us some good also, then we used spoons and jerk bait when generation starts in afternoon.
Fly Fishing is somewhat back, water is lowering every day. Dark midges, small in size, is the good word. Call Mike "The Fly Guy" to get the best info on fly fishing.
Give Custom Adventures Guide Service a call to get out on that beautiful White River. For fishing or just a sightseeing tour, you won`t be disappointed. (479) 363-9632 or for more info and pictures visit us on facebook.
Don't forget to take a kid fishing. tailwatermike.com or facebook.com/getnhookedonbeaver