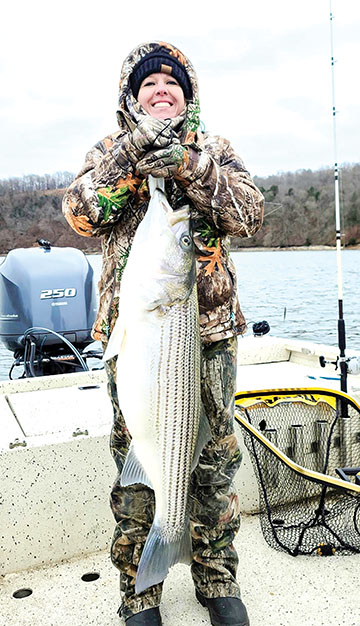 Hello there, hope everyone had a wonderful holiday. These days have been brisk, to say the least, but it has not stopped the fish from biting.
Stripers win this week. I have seen some pictures of trophy stripers this last week, as pictured here. Thanks to Xieng and Juan with Hooked On Fishing Guide Service, Captain Juan turned Susan onto this monster. Not only does his crew catch stripers they tackle crappie, also. Look them up on Facebook.
If you try it on your own, the best advice I have gotten is to trust your electronics and your graph. Find the baitfish and stay with them. Look for a depth of about 30-60 feet this time of year.  
Actually, there is no real honey hole for these fish. They can swim 20 miles in a day if they choose to. They`re scattered throughout the entire lake and Beaver Lake is huge. The lake is approximately 50 miles in length and covers approximately 31,700 acres, with about 483 miles of shoreline, so they have plenty of room to roam.       
Let`s jump down below the dam onto the White River and go fishing. If and when you can catch it when they aren't generating. All you will have to do if they are generating is add more weight to whatever you are using.
Powerbait in colors of yellow and white tipped with wax worms, spoons, and jerk bait has been doing well. Fly fishing has been hard because of flowing water. But if you find a time when they are not generating these have remained best flies; ruby midges, root beer midges, zebra midges, egg patterns.
My advice is to hire a guide, treat yourself. Listen to and take the advice from your guide even if it differs from the way you may have caught fish in the past. Guides want you to be successful and to catch fish!
Give us a call or look us up on Facebook, Custom Adventures Guide Service (479) 244-5259
Don't forget those little ones, Take a Kid Fishing.