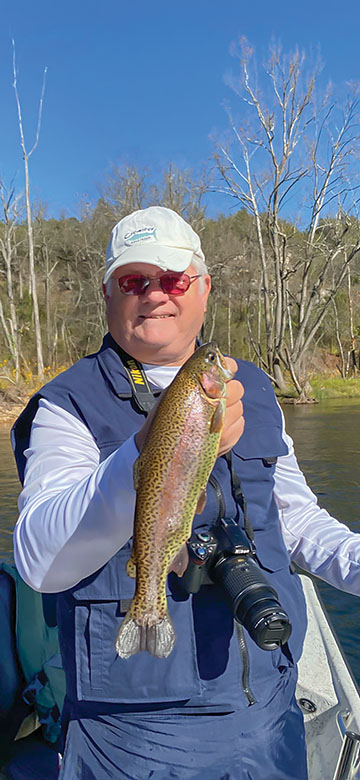 Hunting season is upon us. I have never missed an opening day of modern gun deer season so that day was a given. But the weather screams "take me fishing." It`s hard for me to juggle. This whole week is going to be fishing kinda weather. So let's get out there and do it just like Marty Thompson and John Schmidt did last week.
We fished one day and did ok, nothing to write home about. Then we took the wives Cheryl and Evelyn out on the next day for a little sightseeing trip. It turned into a "can I fish a little?" trip. The girls must have been our good luck charm because the guys were reeling them in on that day.
Trout fishing on the White River has been good for those who have access to a boat. They have been generating a lot in the daytime making bank fishing a challenge.
Drift fishing with Powerbait in colors of white and sunrise tipped with a wax worm was best. Drift fishing with one piece of Powerbait and a nightcrawler injected with air to keep it afloat has done well getting the bigger ones to bite, and throwing crank and jerk baits towards the banks have been producing with this flowing water.   
I didn't have a chance to fish any other body of water this week, but the experts say crappie fishing each day is getting better. Jigs being fished around brush in 15 feet of water are doing well. Try using minnows or crankbaits and target the brush piles. 
Take care and get out there, this weather is not going to last that long.
Look us up on Facebook for more info and pictures. Or give us a call Custom Adventures Guide Service. (479) 363-9632