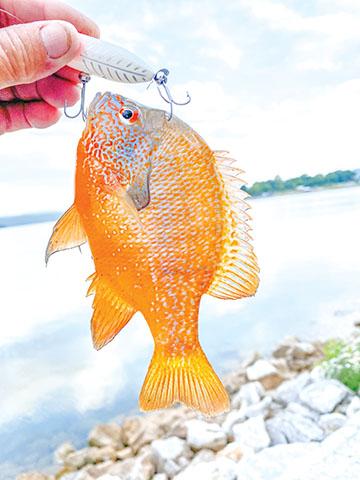 Please, oh please, don't waste this last nice week of the year that paradise has given us… one more week of heavenly weather to get out and our fix on. Fish On! You might have to pull out a wild card this week on your workplace or spouse duties this week.
I will give you a few of best lies that anglers give to get out of work: Car trouble, jury duty, community outreach work, fake rash. Don't get caught in the lie by being sloppy with social media. Adjust your privacy settings and make sure nothing incriminating ends up online. Then you can relax and get down to what matters in life, fishing. 
Although anglers and fish are alike… they both get into trouble when they open their mouths
My game plan this week is to hit the White River early a.m., fly fishing with P.J. jigs 1/125, olive wooly bugger, nymphs any colors. Drifting in the afternoons. Spoons, jerk baits, and live bait, power baits color being sunrise and white with waxworm or nightcrawler injected with air.
I plan to go hit Lake Leatherwood in the evening time with topwater action, about 45 minutes before an early sunset. Then towards the end of the week I'm going to Kings River for that last of the year Smallmouth rendezvous. My preference is a fly rod, again using white wooly with a red neck wrap.
Be sure and get in contact with us for all your fishing info. And check out our Facebook page for great photos and reports at Custom Adventures Guide Service (479) 244-5259