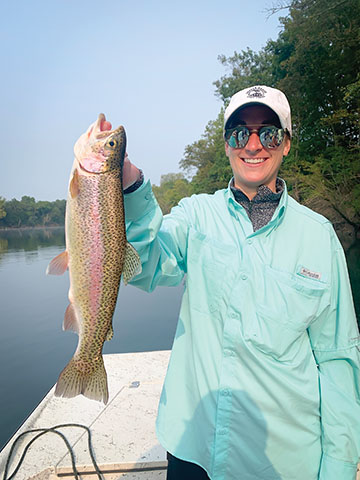 If you're feeling down or burnt out, it might be time to get back into nature. Whether it's the sights, smells, or sounds, or simply the chance to escape from the daily grind, nature can have a positive effect on your mental health.
Fishing is the cure for everything. I've known this for years. Fishing heals all wounds. Sad? Get on a boat. Stressed? Wet a line. Girlfriend dump you? Let those tears fall right into the water. 
Going fishing outdoors increases your vitamin D. It boosts your immune system and has been linked to fighting depression. Fishing provides an opportunity to recharge you naturally. Physically, mentally and spiritually you will be re-centered and content. Spending time in a peaceful natural environment helps to calm anxiety. Natural beauty stimulates positive moods. Some of the mental benefits of fishing may be thanks to the opportunity it offers for us to unplug from our digital lives and enjoy nature.
So now we have an excuse to go running out the door to our favorite honey hole, like Kate did in this picture. She left the commotion and turmoil of the big city and had a great get-away in our beautiful neck of the woods. John and Kate booked a trip and the smiles were on.
Channel and flathead catfish are found throughout both Table Rock Lake and Beaver Lake. They like bluegill and hot dogs. Of course, there's always the standard frozen chicken parts or stink bait if you prefer to go old school. 
When the sun goes down, the catfish move to shallow water. Fish from sundown to sunrise for the best action. sit back and wait for the dip of the rod tip.
Trout fishing below Beaver Lake on the White River is still hotter than ever.
Don't forget we offer sightseeing tours also, those are good for the soul. Give us a call for your escape or check out our pictures and adventures on our Facebook page. Remember to Take a kid fishing.
Custom Adventure Guide Service (479) 363-9632