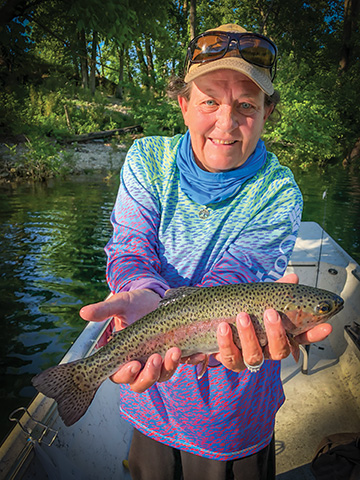 Hello folks, I'm Lisa Mullins with Custom Adventures Guide Service. I`m gonna try to fill Robert Johnson's waders. He's one of the best fishermen and most personable guides and can fish on multiple waters.
I mainly take folks trout fishing on the Beaver tailwaters, known as the White River. My personal passion is smallmouth fishing and any fish topwater.
Bank fishing is difficult now because of high water. Hard to find access, and when you do it's filled up with folks.
Best to use white and pink power bait, it's sure produced for use the last few days, heavy spoons to get deep, and trolling crank bait of any kind. We been sticking with flicker shads. Best colors orange, gold and anything that looks like shad.
Fly fishing from shore is basically out. I've seen some try from a boat, but it's still a struggle. Big white streamers would the best from a boat.
Floodgates are closed and water temps are warm downstream as Table Rock Lake is backing up. Best fishing is up by the dam, cooler water.
Beaver Lake stripers are still good, they are moving to clear water. Trolling with white plastics at 30 – 35 ft. between Point 5 and Beaver Dam. Some top water action early morning and late evening.
Walleye are still happening, troll the points and gravel bars with the slope and aim for about 17 ft.
Bass are acting shy graphing at 25-30 ft. Bream are on fire, use crickets and trout magnets, the colors pink and cheese.
Table Rock Lake is full also. Reports are it`s been slow. Fish are deeper because of heat and the water is deeper. Best way to get some action is to use Ned Rig and tube baits deep, 15-30 ft. For bass try top water at sunrise and again at sunset. That action sometimes only last for about 45 minutes. But it's sooo sweet.
Remember, you can`t catch 'em if you're on the couch. Be safe while on the water and take advantage of the nice weather – and take a kid fishing!
And look us up on facebook.