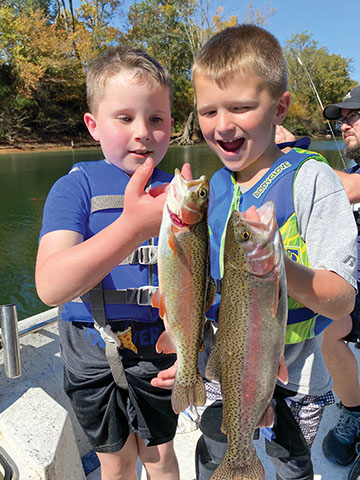 During this time of quarantine, fishing is becoming a popular choice, and people with children are considering fishing more during the pandemic. Since playgrounds, trampoline parks and other recreational spaces are closed, there are limited outdoor activities available right now. But with social-distancing measures in place, fishing is a great outdoor activity that the entire family can enjoy. Here are a few more reasons to take a kid fishing.
Fishing is the perfect activity to reconnect with Mother Nature and one another. For many children, sitting side-by-side with Dad and Mom while waiting for a fish to bite gives a sense of security and companionship.
And then when the fish hits, it's all high fives and fist bumps.
Picture taking lasts a lifetime. I can recall looking back at old pictures of me while holding a lunker and first thought was… Why did they let me wear those clothes? Then thinking of the memories of them always taking me along. Just like these two young boys Brooks and Henry. The dads took these two little guys out for quite the outing. Father and son bonding experience for sure. We were into the smiles and fish all day. Looking forward to our next adventure together.
White River action for trout has been powerbait, white and orange, along with wax worms. Nightcrawlers are excellent also. Spoons, and Zig Jig.
Fly fishing has been awesome drifting midges under strike indicators in sizes 16# in copper/black, blue dun, root beer.
Good reports on Lake Leatherwood right before dark on top water lures. No super large ones but lots of action in short amount of time. That`s where I`m heading this week. I love some topwater fishing.
For more great pictures, videos and information, look us up on Facebook – Custom Adventures Guide Service. (479) 363-9632
Get rewarded like I did this week and "Take a Kid Fishing."