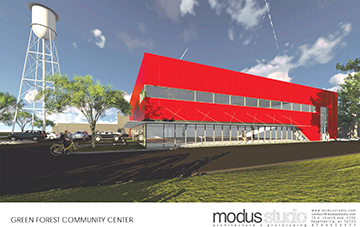 As the walls begin to rise on a new city hall, Green Forest Mayor Charlie Reece has turned some of his focus toward a proposed community center. In an Independent interview last week, he shared a drawing that illustrates his hopes for the project.
Reece began by emphasizing that the city does not yet have funding in place. The state has contributed a grant of $75,000 toward the project, and Reece said he has commitments for some major donations, so the community center could become a reality "within a couple of years."
The drawing is only a suggestion, but gives a good sense of a building which could fill the community's needs. The proposal would place the two-story building behind the new city hall, have a gym floor with a walking track above, and include meeting rooms. Reece speculated that the final design would include a kitchen and a weight room.
The new city hall is expected to open in September. It will include all the existing city offices, city court, and the police department. All records will be stored in a safe room, which will also be available to protect city employees. The building will improve the efficiency of every city office, Reece explained. The city will remove the existing city hall building after occupying the new building.
Pizza Hut has plans to open a location in Green Forest, located in a new strip mall with other businesses. Reece said the old Larimer house, located on that property, would be donated to the city. It will cost about $15,000 to move the building to a nearby spot on U.S. 62, where it might hold a historical museum or an office for the Chamber of Commerce, Reece said.