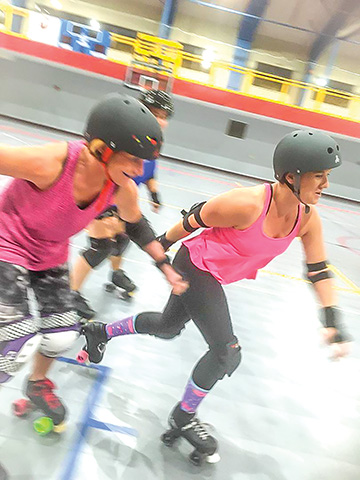 Sports fans will have a chance to see history in the making as the fabulous ladies of the Carroll County Outlaws bring flat track roller derby to Carroll County for the first time ever.
On Saturday, Oct. 13, the Outlaws will hold a Roller Derby bout at 5 p.m. at the Berryville Community Center, competing against skaters from other leagues. They promise a family-friendly event with some serious athleticism.
This sport has changed considerably from the banked-track battles of the 1970s. Skaters still make a lot of contact, but without flying elbows and wild scrums. The website of the Women's Flat Track Derby Association has some video clips for those unfamiliar with the sport, and the announcer will explain scoring during a mock jam before the contest. Basically, one jammer on each five-person team tries to get past the blockers on the other team.
Blocking can become very aggressive, and skaters can end up in the audience, so only those over 18 can sit in the in the front row "suicide seating."
What makes these ladies lace up these skates?, "It's hard-hitting and fun, a way to leave the everyday stresses behind," Slamabelle Lektor explained. And what can the audience expect? "You get to come watch women hit each other!" Crash said.
In addition to the competition, this event provides an opportunity for the community to come together. Doors open at 4 p.m., and vendors will have food, crafts, and jewelry. The Outlaws will have a merch table with t-shirts and more for their adoring fans. KTHS Radio will broadcast a live remote, and the Berryville High School cheerleaders will perform at halftime. Skaters will mingle and sign autographs after the event.
Tickets are $10, with children 12 and under free. In keeping with the event theme of "Too Cool 4 School," school staff will be admitted for $6, and members of the military will receive the same discount.
Anyone seeking more information about the Outlaws can check their Facebook page. The team will need some volunteers to help on derby day with taking admissions or wrangling the crowd.