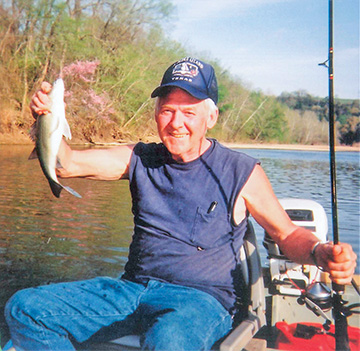 Gene Braswell of Eureka Springs, Ark., was born March 18, 1941 in Denver, Ark., to Charlie and Elzie (Butler) Braswell. He passed away surrounded by his family at his home Sept. 12, 2018 at age 77.
Gene was a minister of six Assembly of God churches in Arkansas and Colorado. He also was a cattle farmer; church furniture and carpet salesman, and he built Lakeshore Cabins resort on Beaver Lake. He was a lifelong hunter, trapper and avid fisherman. A perfect day would be "sittin' at the Round Hole" on the Kings River catching his limit of white bass.
Gene was one of God's quiet givers who looked daily to be a help to those in need. He found joy in giving away bags of fish and bounty from his garden or giving to churches and organizations to help the less fortunate. He enjoyed the simple things in life the most, fish cookouts with family and friends, fishing in an early morning fog, a sunset on the lake viewed from the deck with Juanita, or a walk on the beach.
He was a wonderful husband, father, grandfather, great-grandfather and a friend to many from all walks of life. Gene lived an honest, honorable life and left a legacy of unconditional love and generosity to others and will be greatly missed by all who knew and loved him.
He is survived by one daughter, Lita Braswell of Eureka Springs, Ark.; and two sons, Chuck Braswell and wife, Christie, of Eureka Springs; David Braswell and wife, Donna, of Eureka Springs; and his "like a son" nephew, David Jenkins of Green Forest, Ark.; three grandchildren, Justin Braswell and wife, Brenda, of Eugene, Ore.; Elaina Teigen and husband, Colby, of Eureka Springs; and Tammy Krosky of Fayetteville, Ark.; two great-grandchildren, Addison and Carleigh Teigen of Eureka Springs; three sisters, Lola Taylor Erwin of Portland, Ore.; Charlene Jenkins of Green Forest, Ark.; and Ray Ann Worley of Berryville, Ark.
He was preceded in death by his parents and Juanita, his wife of 55 years.
A graveside celebration of Gene's life will be held at 11 a.m., Saturday, Sept. 22, 2018, at the Eureka Springs Cemetery. Memorial donations may be made to Flint Street Fellowship Food Bank, P.O. Box 323, Eureka Springs, AR 72632 or flintstreet.org. Arrangements are under the direction of Nelson Funeral Service, Inc. Online condolences may be sent to the family at nelsonfuneral.com. © Nelson Funeral Service, Inc. 2018