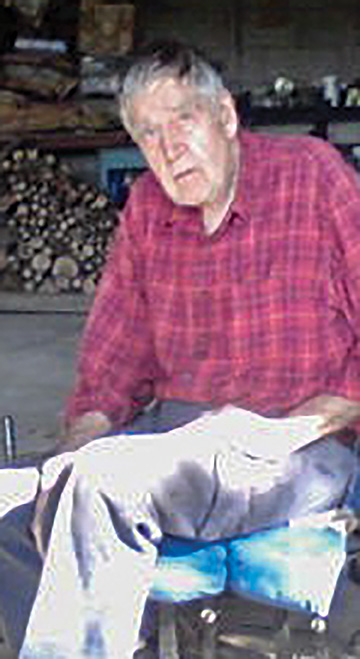 Fred H. Kachelmyer, a resident of Grassy Knob, Eureka Springs, Ark., since November 1987, died at his home Dec. 21, 2017. He was born April 5, 1927 in Mankato, Minn., the second of three sons. His father was a concrete worker.
He served in both the Navy (1945-1946) and the Army (1950-1952). He worked as an automobile mechanic and was later hired by the Milwaukee Road Railroad as a telegraph and interlocking tower operator.
He married Shirley Rausch in 1949 and they had three sons, Lyle, Alan and John. The family raised cattle, farmed, and gardened while Fred also continued to work for the railroad.
From the beginning, he was fiercely independent, never hiring anyone to do anything he believed the family could do on their own. The boys even learned to make and use dynamite at an early age – among many other skills which they were most likely to never use again. They did their own vet work with the cattle and their pets, plus built and maintained anything they needed, including a large trench silo.
He married Elaine Supinski in 1986 and retired to Arkansas in 1987 where Fred continued his pattern of hardworking self-sufficiency. He maintained his own vehicles, was his own electrician, plumber, and general handyman. In 30 years, he never hired anyone to do anything other than pump out the septic tank.
He rebuilt an old pontoon boat and maintained his used 1963 5 HP Johnson motor until 2012 when he could no longer fashion or purchase a part it needed. He set up his vegetable garden complete with irrigation and mulching systems, utilizing repurposed tanks and pipes to catch and deliver roof water runoff and convert and convey mulch.
He saved everything but had a special fondness for saving scrap metal. He loved wood – harvesting it, chopping it, and heating his home, garage, and water with it. In addition to his wife, he leaves behind one of the largest woodpiles in Northwest Arkansas. He built a shed over it to protect it from the elements.
He also loved music and loved accompanying his favorites on his guitar.
Despite this abundance of creative ingenuity, persistence, and diligence, he was a mild mannered, unflappable, self-effacing, gentle man. He was never, ever boastful. Nor did he preach. He accepted without judgment that others' choices, beliefs, and lifestyles were often different from his own, and he would never presume to disapprove or interfere. He is sorely missed.
No services are scheduled at this time. Arrangements are under the direction of Nelson Funeral Service. Online condolences may be sent to the family at nelsonfuneral.com. © Nelson Funeral Service, Inc. 2018