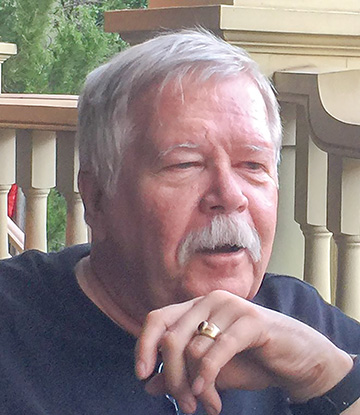 Frank Owen Kendrick, known as Owen, 71, died March 13, 2020 at home. He lived in Eureka Springs, Ark., where he had been blown from New Orleans by Hurricane Katrina in 2006. He was born in Memphis, Tenn., and acquired dozens of friends all over the country.
Owen served in the Army in South Korea during the Vietnam War, attended The Colorado College in Colorado Springs, Colo., and graduated from Tulane University School of Law in New Orleans, La..
He practiced law, redeveloped a brownfield in New Orleans into a full-service car wash, was CEO of a 501(c)(3) corporation that rehabilitated housing in a low-income New Orleans neighborhood, was a mortgage banker specializing in affordable multi-family housing, about which he was passionate, and was a past owner of the Crown and Anchor Bar in Algiers Point in New Orleans, another passion of his.
He was a past president of the Good Shepherd Humane Society and of the Dairy Hollow Writers' Colony in Eureka Springs and a member of the boards of directors of Mercy St. Johns Regional Hospital in Berryville, Ark., and of The Carroll County (Arkansas) Community Foundation.
On a lighter note, Owen was a member of the 444th Underground Mess Kit Repair Battalion Mechanized in Colorado Springs, the New Orleans Lawn Tennis Club, the Scotch Club in Eureka Springs, and the Wednesday evening drinking club who meets at Sparky's in Eureka Springs, sometimes called the Liars' Club. He founded the Caterpillar Club in Eureka Springs, which meets the Friday before Christmas.
Owen kept everyone laughing and lived as big as his heart. No one was exempt from his rapier wit. He loved tennis, his wife Kristi, and his friends and family. His wife loved him to pieces. The world is more solemn without him.
He is survived by his wife Kristine Bradt Kendrick, of the home, to whom he had been married for 47 years. His father, Frank Ernest Kendrick, and mother, Alice Elizabeth Bryan Kendrick, predeceased him.
He is also survived by his brother William Donald Kendrick and sister-in-law Marne Kendrick, of Tampa, Fla., his sister Karolyn Kaye Kendrick Roberson and brother-in-law Michael Roberson, of Williston, S.C., his brother John Alan Kendrick, of Colorado Springs, Colo., and his nephew Sean Daniel Kendrick, who attends Baylor University.
No observances are scheduled at this time in deference to the coronavirus. Cremation arrangements are under the direction of Diamond State Cremation & Mortuary Service in Lead Hill, Ark. In lieu of flowers, please send donations in Owen's name to the Good Shepherd Humane Society or Cup of Love in Eureka Springs or the Ozanam Inn, 843 Camp St., New Orleans, LA 70130.