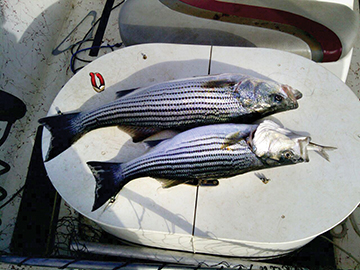 Well, Tuesday was opening day of trout season, which to most fishermen it is the first sign of our spring. We had a pretty good winter with water temps staying above 46°, so no shad die off this year, which means a lot of fat healthy fish in the lake.
Here's a couple nice stripers we got while out looking the other afternoon. We caught them off the flats in 30 ft. water chasing shad on big shiners. Shiners are working well now since stripers are mostly feeding on smaller bait, three to five inches long. Also, throw top water baits when on the flats or trolling or working jigs and spoons below 20 ft. deep.
Here at Holiday Island the walleye are being caught from here to the US 62 bridge, along with whites and trout. Bass and crappie are also being caught from the Missouri line to the Beaver area. Both are moving shallow with the sun warming.
Crappie are being caught in water under 20 ft. deep, from 6 – 12 ft. deep, on minnows and jigs. Some fat bass are being caught in water as shallow as four ft. deep with the sun heating and holding off the deeper, steeper rocky banks when cooler.
Jigs, stickbaits and crankbaits are all paying off.
Well, I guess that's it for this week. Extended forecast shows a lot of days coming in the 60s, so get out and enjoy, as will I.
Robert Johnson, fishofexcellence.com, (479) 253-2258