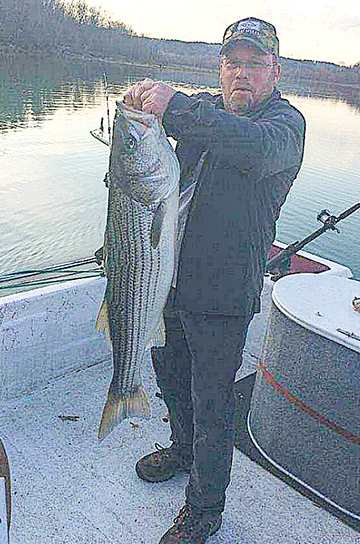 Sometimes you have to go against the flow to succeed. The stripers and white bass are  both doing that now going up the creek and river arms with eggs to lay.
Best striper, David Hildebrand from Prairie Grove caught this nice fish pushing close to 40 lbs. up the War Eagle arm of Beaver Lake. There is still a lot of bait and fish in Prairie Creek with water up good after last week's heavy rains, but the water up the White and War Eagle arms is also clearing out with clean water and current, and that's where this big fish went to lay her eggs.
Been hearing some good news also on the Spots and large mouth bass both are  moving closer to the shore line  with crankbaits that get down and run 6 – 8 ft. deep are paying off. I think the most famous ones in these Ozarks would have to be the Wiggle Wart and the Flicker shad, in natural crawdad and minnow colors. They seem to be favoring the pockets over the flats in the creek arms, along with the crappie in the shoreline brush.
Big walleye are being brought in here at the Island  with most being caught  upriver from the town of Beaver to up to Spider Creek in the tailgaters.
Well, I have to get the boat ready for another trip tomorrow so I better go. Hit the banks or get out in a boat, but get a line wet and you should come home with some fish.