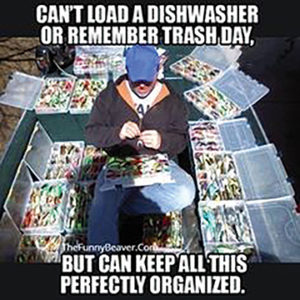 Well, it looks like January will be history tomorrow. The days will start getting longer, the sun will shine more, and fish know it's time to feed up so they can produce eggs.
Our lakes are now at the coldest with the temps holding close to 40°, but by the time March gets here we should be closer to 50°. That starts the move for most fish into their spawning grounds, the shallower water up river and creek arms being the first to warm, along with the current walleye, bass and stripers need to spawn.
The walleye are the first to move up and have already started here at the Island with bug minnows and jigs being the best bait.
Stripers are holding tight in the mid-lake area of Beaver Lake and surfacing when not suspended at 30 feet.
Crappie are moving close to the shoreline brush and being caught as shallow as 6 ft. deep. Beaver tailwaters are running low, so the best trout fishing now is in the deeper water from US 62 bridge to the town of Beaver. Be prepared to catch a walleye for they're there, also.
Flicker shad, night crawlers and minnows are good baits for the trout now.
Remember how the lake is hot and the tailwaters colder in the summer? It's the opposite now since water coming out of Beaver Dam about 200 feet down is supplying the tailwaters and Table Rock with water temps closer to that 50°. So our warm water fish, like bass and shad, have the choice to go deeper, which is north into Missouri or up the river to find that warmer water.
So go against the flow and you should get a mix of all now from trout to bass. Good luck and enjoy this sun.